Swarovski ATS 65 HD Spotting Scope Body
Swarovski ATS 65 HD Spotting Scope Body
€1,499.00
EAN / UPC : 9006325073898
Swarovski Optik is an Austrian family-owned company steeped in the tradition of producing superlative binoculars and telescopes. Their products are often icons of both optics and asthetics.
NB - one of the suggested eyepieces is required to view objects through this spotting scope

Add-ons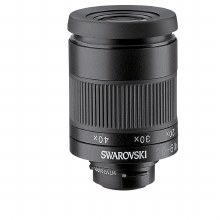 Swarovski's posh spotting scopes are hallmarks of the distinguished brand. They're available in two objective sizes, straight or angled viewing, and with regular or ultra-low dispersion glass. It is entirely a personal preference which cannot be determined except from experience, but many prefer anlged scopes for extended observations or when sharing a scope amongst people of varied heights. The 65mm size still lets in a sizeable chunk of light but can easily be tolerated upon a long hike.
The "HD" versions of Swarovski's scopes feature elements with extra-low dispersion glass. This provides an even more remarkable image, with better edge resolution. In particular, color fringing is nearly eliminated. Subjects with intricate patterns will have crisper delineation, something enthusiastic birders will greatly appreciate.
The ATS & STS series spotting scopes have a focal length of 460mm. If you're using conventional 1.25" astronomy eyepieces with the optional #6290307A Astronomy Eyepiece Adapter, divide 460mm by the focal length of your eyepiece to determine the effective magnification.
Rotating tripod collar with detented click stops
Retractable lenshood
Operating range from -4 to 131? F (-20 to 55? C)
Both 1/4"-20 & 3/8"-16 tripod threads
Both digital & 35mm camera adapters to convert your scope to a telephoto lens
Large focusing barrel with oversized grooves for fine control
Swarovski's microthin coatings produce optimum light transmission and resolution
Environmentally friendly lead and arsenic free glass
Accepts conventional 1.25" astronomy eyepieces with the purchase of optional #44010 Astronomy Eyepiece Adapter
Accepts 67mm filters
Objective Lens Diameter65mm
Minimum Focus Distance10.0' (3.0 m)
WeatherproofingWaterproof & fogproof
Dimensions12.8" (325mm)
Weight2.49 lb (1130 g)