Fujifilm Instax Mini 40 Instant Camera
Fujifilm Instax Mini 40 Instant Camera
€99.99 €89.99 €10.00
EAN / UPC : 4547410449358
Promotions & Cashbacks
The instax mini 40 is pumped with attitude for today's new generation of image makers and shot takers. Combining 'fast to action' features with classic design cues and fresh instax mini film, it'll keep you one shot ahead of the rest.

Add-ons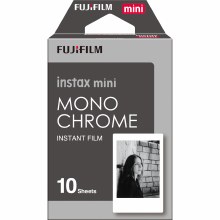 One-touch Selfie Mode
Forget lens switching. The mini 40 is ready to hit the streets running, thanks to the built-in selfie lens. Fire up the lens with an extra click, line yourself up in the mirror and capture your style in a one of a kind selfie.
Classic Reinterpreted
Timeless and epic. And that's just the silhouette. Edged with premium silver accents, the deluxe black texture is sensational to touch, propelling the mini 40 into a league of its own. Time you made your statement?
Automatic Exposure - You want it, you've got it
Slowing down is not an option. The mini 40 lets you give your take on the go. Auto shutter speed. Auto brightness. So, what you see is what you get, every shot, every time.
Take it easy
Join forces with the mini 40 and you'll be firing up stunning, high quality images this season, and beyond. With fast functional controls, this camera lets you make your mark without missing a beat, or an iconic image.
Film
FUJIFILM instax mini instant film
Photo Picture Size
62 mm × 46 mm
Lens
2 components, 2 elements, f = 60 mm, 1:12.7
Viewfinder
Real image finder, 0.37×, with target spot
Shooting Range
0.3 m and beyond (use selfie mode for 0.3 m to 0.5 m)
Shutter
Programmed electronic shutter 1/2 to 1/250 sec. Slow synchro for low light
Exposure Control
Automatic, Lv 5.0 to 14.5 (ISO 800)
Film Ejection
Automatic
Film Developing Time
Approx. 90 seconds (varies depending on the ambient temperature)
Flash
Constant firing flash (automatic light adjustment), recycle time: 6.5 seconds or less (when using new batteries), effective flash range: 0.3 to 2.7 m
Power Supply
Two AA-size alkaline batteries (LR6), capacity: approx. 10 instax mini film packs of 10 exposures each
* Manganese batteries cannot be used.
Auto Power Off Time
After 5 minutes
Other
Includes film counter and film pack confirmation window
Dimensions
104 mm × 121 mm × 65 mm
Weight
330 g (without batteries, strap, and film)
Showcased Accessories
4 found, displaying 1 to 4.
4 found, displaying 1 to 4.
Buy selected Fujifilm Instax Cameras and save with instant discounts when you purchase online OR in the shop.
NB - Qualifying products and discount value may vary during the promotion, see specific product for more information. This promotion is strictly subject to availability, and cannot be applied to orders or layaways which are not collected during the promotional period.
Offer valid from 11/11/2021
to 02/01/2022 (inclusive)
. Terms & Conditions Apply.
---