Fujifilm Instax Mini EVO
Fujifilm Instax Mini EVO
€199.00
EAN / UPC : 4547410462555 | Brand : Fujifilm | SKU : 16745157
Some only see the ordinary. Not you. And neither does the new instax mini Evo hybrid camera. Instead, this smart analog-style shooter brings what you love to life. Every angle, in all the colours, with all the creative options.
Show how you see the world
Creativity is paramount. That's why the instax mini Evo brings endless possibilities to your fingertips. Leaving you to express your unique point of view and share life's beautiful nuances either as an instant physical print, or a captured moment worthy of social media.

Add-ons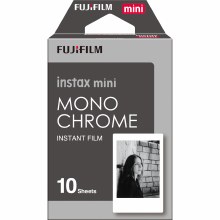 In Stock
---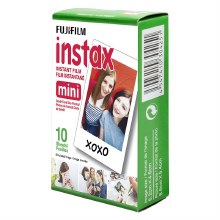 In Stock
---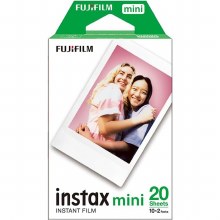 In Stock
---
Rule The Shot
10 lens effects
Set the light just how you want it with 10 different lens effects.
Normal
Vignette
Soft Focus
Blur
Fisheye
Colour Shift
Light Leak
Mirror
Double Exposure
Half-Frame
10 film effects
Express incredible nuance with 10 different film effects.
Normal
Vivid
Pale
Canvas
Monochrome
Sepia
Yellow
Red
Blue
Retro
100 Ways To Express Yourself
Stunning, evocative, dynamic. Interesting, striking, surprising.
With 10 lens effects and 10 film effects, you can create the exact vision you have in mind. Experiment with the vividness, go retro, add softness to the focus, lose the colour - it's your shot, there's 100 ways to capture it, take control.
Lens ring
Both tactile and extremely satisfying, turn the lens on the mini Evo to cycle through the 10x lens effects, and make something unique.
Filter dial
A unique hands-on experience. Twist the film dial, hear that reassuring click and you've adjusted the film effect setting - you've 10 to choose from.
Printing Mode
Ready to print?
Pull the print lever to the right and relish in a far more tactile, physical and engaging analog-style photo experience.
Favourite Moments, Upgraded
Our high-resolution prints are now even more worthy of your memories. We've doubled the resolution compared with our previous hybrid models and the results are stunning. Opt for instax-Rich Mode for a bright and immersive look, or instax-Natural Mode for a cool and classic finish, either way you can capture it all, then print what you love.
A Mode For Every Mood
Exceed expectations with the mini Evo - the perfect tool for capturing your experiences. Adjust the exposure, alter the white balance, turn the flash on or off, even select macro mode when the mood calls for a close-up. And when you have the urge to be in front of the camera, it's self-timer time.
Design Focused
Sharpen Up
Starting with a classic design, we've streamlined the silhouette of the mini Evo with a sleek, luxurious, razor-sharp finish.
You. Framed.
Selfies are just an arm's length away, thanks to the built-in selfie mirror. Frame yourself, check the lighting, take the shot.
Double Take
Yes, you are seeing double. The mini Evo has dual shutter buttons. One for portrait shots and one for landscape. You're welcome.
Port of Call
A charging port AND a micro SD slot. All the power and all the storage you need for hundreds of potential credit card-size masterpieces.
Smartphone Printer
instax mini Evo app open? Check. Smartphone shot selected? Check. Then what are you waiting for? Adjust the crop, rotate, tweak the brightness, contrast and saturation, add a filter and then print your mini masterpiece directly from your smartphone.
Remote Control
Keep your eye on the shot and go hands-free. Simply connect your smartphone to your mini Evo and hey presto, you've now got a remote shutter button. Spot on for group photos, arty portrait setups, even trickier wildlife shots.
Saved By The App
It's good to share. That's why the mini Evo turns your smartphone into your very own print gallery, saving every single printed image in a handy digital format. Leaving you to get posting on social media.
Film
Film
Fujifilm Instant Colour Film "instax mini" (separately available)
Film size
86mm x 54mm Picture Size 62mm x 46mm
Film developing time
Approximately 90 seconds (varies depending on the ambient temperature)
Exposure
Aperture
F2.0
Shutter speed
1/4 second to 1/8000 second (automatic switching)
Shooting sensitivity
ISO100 to 1600 (automatic switching)
Exposure control
Program AE
Exposure compensation
-2.0 EV to +2.0 EV (1/3 EV step)
Storage
Storage media
Internal memory, microSD/microSDHC memory card
Storage capacity
Approximately 45 images in internal memory, approximately 850 images per 1 GB in microSD/microSDHC memory card
File system
DCF compliant Exif Ver 2.3
Printing Specs
Printing time
Approx. 16 seconds (Plus 7 seconds when printed using instax-Rich Mode immediately after startup)
Printing function
Images in the internal memory and images in the memory card can be printed
Reprint
Reprint is possible for images stored in print history (up to 50)
Printing resolution
25 dots / mm × 12.5 dots / mm (635 x 318 dpi, 40 x 80 μm dot pitch), 12.5 dots / mm when printed from smartphone app (318 dpi, 80 μm dot pitch)
Printing levels
256 levels per colour (RGB)
Battery Specs
Battery
Lithium ion battery (internal type: not removable)
Charging function
Built-in
External interface
Micro USB Micro-B (for charging only)
Printing capacity
Approximately 100 (from full charge) * The number of prints depends on the usage conditions
Charging time
Approximately 2 to 3 hours * Charging time depends on the temperature
Sensor
Image sensor
1/5-inch CMOS with primary color filter
Number of recorded pixels
2560 × 1920
Lens
Focal length
f = 28 mm (35-mm film equivalent)
Shooting distance
10 cm and beyond
Flash
Auto flash / Forced flash / Suppressed flash
Shooting range with flash
Approximately 50 cm to 1.5 m
Self-timer
Approximately 2 seconds / approximately 10 seconds
LCD Screen
3.0-inch TFT color LCD screen
Pixel count
Approximately 460,000 dots
Physical
Dimensions
87 mm × 122.9 mm × 36 mm (excluding projecting parts)
Weight
Approximately 285g
Creative Options
10 lens effects, 10 film effects Total of 100 effects by multiplying above
Showcased Accessories
3 found, displaying 1 to 3.
3 found, displaying 1 to 3.