Fujifilm X-H1 Power Kit
Fujifilm X-H1 Power Kit
€1,376.00
4547410365665
Promotions & Cashbacks
X-Trans™

*

CMOS III & X-Processor Pro
In-body image stabilization
Feather-touch shutter button
Film Simulation "ETERNA"

Add-ons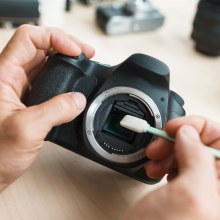 Imaging
The FUJIFILM X-H1 uses the APS-C size X-Trans™ CMOS III sensor (24.30 million pixels, without low-pass filter) and the high-speed image processing engine X-Processor Pro. When used in combination with the extremely high-quality FUJINON lens, as well as the unique color reproduction technology developed by FUJIFILM more than 8 decades ago, the FUJIFILM X-H1 produces outstanding, unrivaled quality images recording the finest details of the subject including its texture, three-dimensional structure and even the atmosphere and vibe of a particular scene.
Control
The first internal in-body image stabilization (IBIS) system to feature in an X Series camera, harnesses three axial accelerometers, three axial Gyro sensors, and a specially developed dual-processor. Combined, this achieves the high speed of approximately 10,000 calculations per second. When unified with compensating mechanisms, results in uncompromising image quality and precision with performance.
Colors
With Film Simulations, you can apply colors and tones that match your artistic intentions to your pictures, as if choosing different special effect photographic films. The FUJIFILM X-H1 comes with sixteen Film Simulation modes, which Fujifilm has uniquely created based on the color-presentation philosophy and know-how the company has developed through more than 80 years of photo film production.
Movie
The FUJIFILM X-H1 is the first camera in the X Series to include ETERNA, a new film simulation ideal for shooting movies. This mode simulates cinematic film, creating understated colors and rich shadow tones, greatly enhancing creative freedom during post-processing.
| | |
| --- | --- |
| Model Name | FUJIFILM X-H1 |
| Number of effective pixels | 24.3 millions pixels |
| Image sensor | 23.5mm x 15.6mm(APS-C)X-Trans CMOS III with primary color filter. Sensor Cleaning systemUltra Sonic Vibration |
| Storage media | SD Card (-2G) / SDHC Card (-32G) / SDXC Card (-512G) UHS-I / UHS-II |
| File format | Still image JPEG (Exif Ver.2.3) MovieMOV (MPEG-4 AVC / H.264, Audio: Linear PCM / Stereo sound 24bit / 48KHz sampling) |
| Number of recorded pixels | L: (3:2) 6000 x 4000 / (16:9) 6000 x 3376 / (1:1) 4000 x 4000 M: (3:2) 4240 x 2832 / (16:9) 4240 x 2384 / (1:1) 2832 x 2832 S: (3:2) 3008 x 2000 / (16:9) 3008 x 1688 / (1:1) 2000 x 2000 |
| Lens mount | FUJIFILM X mount |
| Sensitivity | Standard Output Sensitivity : AUTO1 / AUTO2 / AUTO3(up to ISO12800) / ISO200 to 12800(1/3 step) Extended output sensitivity : ISO100 / 125 / 160 /25600 / 51200 |
| Exposure control | TTL 256-zone metering, Multi / Spot / Average / Center Weighted |
| Exposure mode | P (Program AE) / A (Aperture Priority AE) / S (Shutter Speed Priority AE) / M (Manual Exposure) |
| Exposure compensation | -5.0EV - +5.0EV, 1/3EV step (Movie : -2.0EV - +2.0EV) |
| Image Stabilizer | MechanismImage sensor shift mechanism with 5-axis compensationCompensation Effect5.0 stops (based on CIPA standard. Pitch/yaw shake only. With XF35mmF1.4 R lens mounted. |
| Shutter type | Focal Plane Shutter |
| Shutter speed | Mechanical Shutter P mode: 4sec. to 1/8000sec. A mode: 30sec. to 1/8000sec. S/M mode: 15min. to 1/8000sec. Bulb mode: up to 60min. Electronic Shutter P mode: 4sec. to 1/32000sec. A mode: 30sec. to 1/32000sec. S/M mode: 15min. to 1/32000sec. Bulb mode: 1sec. FixedElectronic front curtain shutter P mode: 4sec. to 1/8000sec. A mode: 30sec. to 1/8000sec. S/M mode: 15min. to 1/8000sec. Bulb mode: up to 60min.Mechanical + Electronic shutter P mode: 4sec. to 1/32000sec. A mode: 30sec. to 1/32000sec. S/M mode: 15min. to 1/32000sec. Bulb mode: up to 60min.E-front + Mechanical shutter P mode: 4sec. to 1/8000sec. A mode: 30sec. to 1/8000sec. S/M mode: 15min. to 1/8000sec. Bulb mode: up to 60min. Electronic front curtain shutter works until 1/2000sec.E-front + Mechanical + Electronic shutter P mode: 4sec. to 1/32000sec. A mode: 30sec. to 1/32000sec. S/M mode: 15min. to 1/32000sec. Bulb mode: up to 60min. Electronic front curtain shutter works until 1/2000sec.Synchronized shutter speed for flash1/250sec. or slower |
| Continuous shooting | Approx. 14fps [Only electronic shutter ] (JPEG: 40 frames Lossless compression RAW: 27 frames Uncompressed RAW: 23 frames) Approx. 11fps [with VPB-XH1] (JPEG: 70 frames Lossless compression RAW: 28 frames Uncompressed RAW: 24frames) Approx. 8fps (JPEG: 80 frames Lossless compression RAW: 31 frames Uncompressed RAW: 26 frames) Approx. 6fps [Only electronic front curtain shutter ] (JPEG: endless Lossless compression RAW: 35 frames Uncompressed RAW: 28 frames) Approx. 5fps (JPEG: endless Lossless Compression RAW: 37 frames Uncompressed RAW: 29 frames) Recordable frames depends on recording media Speed of continuous shooting depends on shooting environment and shooting frames |
| Auto bracketing | AE Bracketing (3EV,8/3EV,7/3EV,2EV, 5/3EV, 4/3EV, 1EV, 2/3EV, 1/3EV) Filmsimulation bracketing (Any 3 types of film simulation selectable) Dynamic Range Bracketing (100, 200, 400) ISO sensitivity Bracketing (1/3EV, 2/3EV, 1EV) White Balance Bracketing (1, 2, 3) |
| Focus | modeSingle AF / Continuous AF / MFtypeIntelligent Hybrid AF (TTL contrast AF / TTL phase detection AF)AF frame selection Single point AF: EVF / LCD: 13 x 7 / 25 x 13 (Changeable size of AF frame among 6 types) Zone AF: 3 x 3 / 5 x 5 / 7 x 7 from 91 areas on 13 x 7 grid Wide/Tracking AF: (up to 18 area) AF-S : Wide AF-C : Tracking All |
| White balance | Automatic Scene recognition / Custom1-3 / Color temperature selection (2500K-10000K) / Preset: Fine, Shade, Fluorescent light (Daylight), Fluorescent light (Warm White), Fluorescent light (Cool White), Incandescent light, Underwater |
| Self-timer | 10sec. / 2sec. |
| Interval timer shooting | Yes (Setting : Interval, Number of shots, Starting time) |
| Flash modes | SYNC. MODE1ST CURTAIN / 2ND CURTAIN / AUTO FP(HSS)FLASH MODETTL (FLASH AUTO / STANDARD / SLOW SYNC.) / MANUAL / COMMANDER / OFF (When EF-X8 is set) |
| Hot shoe | Yes (Dedicated TTL Flash compatible) |
| Viewfinder | 0.5 inch approx. 3.69 millions dots OLED Color Viewfinder Coverage of viewing area vs. capturing area: approx. 100 Eyepoint: approx. 23mm (from the rear end of the cameras eyepiece) Diopter adjustment: -4-+2m Magnification: 0.75x with 50mm lens (35mm equivalent) at infinity and diopter set to -1.0m Diagonal angle of view: approx. 38 (Horizontal angle of view: approx. 30 ) Built-in eye sensor |
| LCD monitor | 3.0 inch, aspect ratio 3:2, approx. 1.04 millions dots touch screen color LCD monitor(approx. 100 coverage) |
| Movie recording | [4K (4096 x 2160)] 24p / 23.98p 200Mbps / 100Mbps / 50Mbps up to approx. 15min. [4K (3840 x 2160)] 29.97p / 25p / 24p / 23.98p 200Mbps / 100Mbps / 50Mbps up to approx. 15min. [Full HD (2048 x 1080)] 59.94p / 50p / 29.97p / 25p / 24p / 23.98p 100Mbps / 50Mbps up to approx. 20min. [Full HD (1920 x 1080)] 59.94p / 50p / 29.97p / 25p / 24p / 23.98p 100Mbps / 50Mbps up to approx. 20min. [Full HD (1920 x 1080) High speed rec.] 59.94p / 50p / 29.97p / 25p / 24p / 23.98p 200Mbps up to approx. 6min. [HD (1280 x 720)] 59.94p / 50p / 29.97p / 25p / 24p / 23.98p 50Mbps up to approx. 30min. For recording movies, use a card with UHS Speed Class 3 or higher. With Vertical Power Booster Grip attached, individual movie recording time is extended up to approx. 30min. on both 4K and Full HD mode. Although movie recording will continue without interruption when the file size reaches 4GB, subsequent footage will be recorded to a separate file which must be viewed separately. |
| Film Simulation mode | 16 modes (PROVIA/Standard, Velvia/Vivid, ASTIA/Soft, Classic Chrome, PRO Neg.Hi, PRO Neg.Std, Black & White, Black & White+Ye Filter, Black & White+R Filter, Black & White+G Filter, Sepia, ACROS, ACROS+Ye Filter, ACROS+R Filter, ACROS+G Filter, ETERNA/Cinema) |
| Grain effect | STRONG, WEAK, OFF |
| Dynamic range setting | AUTO, 100, 200, 400 ISO restriction (DR100: No limit, DR200: ISO400 or more, DR400: ISO800 or more) |
| Advanced filter | Toy camera, Miniature, Pop color, High-key, Low-key, Dynamic tone, Soft focus, Partial color (Red / Orange / Yellow / Green / Blue / Purple) |
| Wireless transmitter | StandardIEEE 802.11b / g / n (standard wireless protocol)EncryptionWEP / WPA / WPA2 mixed modeAccess modeInfrastructure |
| Bluetooth | StandardsBluetooth Ver. 4.0 (Bluetooth low energy) Operating frequency [Center frequency]2402 - 2480MHz |
| Terminal | Digital interface USB3.0 (High-Speed) / micro USB terminal connectable with Remote Release RR-90 (sold separately) HDMI outputHDMI micro connector (Type D)Others 3.5mm, stereo mini connector (Microphone) / 2.5mm, Remote Release Connector Hot shoe, Syncronized terninal |
| Power supply | NP-W126S Li-ion battery (included) Battery life for still images Approx. 310frams (Normal Mode) When XF35mmF1.4 R is set. Actual battery life of movie capture Face detection is set to OFF 4K: approx. 35 min., FULL HD: approx. 45 min. Continuance battery life of movie capture Face detection is set to OFF 4K: approx. 45 min., FULL HD: approx. 75 min. |
| Dimensions | (W) 139.8mm x (H) 97.3mm x (D) 85.5mm (minimum depth 39.5mm) |
| Weight | Approx 673g(including battery and memory card) Approx 623g(excluding battery and memory card) |
| Operating Temperature | -10C - +40C |
| Operating Humidity | 10 - 80 (no condensation) |
| Starting up period | Approx 0.4sec. Fujifilm research |
| Accessories included | Li-ion battery NP-W126S Battery charger BC-W126 Shoe-mount flash unit EF-X8 Shoulder strap Body cap Strap clip Protective cover Clip attaching tool Hot shoe cover Vertical Power Booster Grip connector cover Sync terminal cover Cable protector Owners manual |