Olympus OM-D E-M1X Camera Body
Olympus OM-D E-M1X Camera Body
€2,249.00
EAN / UPC : 4545350052621
Promotions & Cashbacks
Olympus 6 Month Warranty Extension
Perfectly meeting the needs of true professionals, the E-M1X delivers the absolute confidence every photographer comes to expect – with better control, ergonomics and stability throughout the shoot. The advanced system of innovative technology and features has been engineered to take the game a level higher.

Add-ons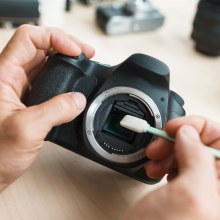 Integrated vertical grip
Giving you everything you need in one, the E-M1X has an integrated vertical grip. As the design is the same on both the vertical and horizontal grip, the photographer enjoys the same intuitive hand movements in both portrait and landscape format shooting. With two battery units, it's ideal for long-time assignments.
World's best image stabilitation (IS)
The engineers at Olympus have taken IS yet another step forward to introduce the redeveloped gyro sensor. It delivers the precision that the E-M1X demands, with results unseen with other cameras. This advanced technology makes up to 7.5 shutter speed steps of compensation possible to eliminate the need for a tripod and enable free-hand shooting.
World's best weatherproof body
Thanks to renowned OM-D weather sealing in the E-M1X, professional photographers can take on any scene – in the rain, snow and sand – without a worry. Now also with additional sealing for the SD card slot and all other covers, as well as for the remote cable, microphone and headphone terminals.
Haptic buttons and improved ergonomics
The specially designed height, shape and characteristics of each individual button and dial means you can easily feel the ones you need and fully concentrate on shooting through the viewfinder. The button layout and handling have both been enhanced to offer better ergonomics, which is especially convenient during long periods of shooting.
Class-leading Supersonic Wave Filter (SSWF)
The best in class has now become even better. The enhanced SSWF provides a higher level of reliability when you change lenses. Dirt and dust have even less a chance of ruining photos and equipment.
Long shutter life
After being put through stringent tests, the shutter curtain on the E-M1X has shown to provide a top-class operation life of 400,000 actuations.
Dual card slots
With two UHS-II slots, you can always be sure that the camera delivers the same performance even when one card is full. Professionals can save shots on both cards and always have a back-up, so a photo never goes lost.
USB charging
The E-M1X is the first Olympus camera to support USB power delivery of up to 100 Watts. This makes you independent of the power supply wherever you may be and have the option of charging the batteries using a powerbank. With double battery support, two batteries can be fully charged in-camera simultaneously in just two hours.
Long battery life
The duo battery power gives photographers the chance to shoot up to 2,580 images before having to recharge, which is ideal for long photo shoots and remote-location assignments.
Type
Body material
Magnesium alloy body
Lens mount
Micro Four Thirds
Image Sensor
Type
4/3 Live MOS sensor
Effective pixels
20.4 Megapixels
Filter array
Primary colour filter (RGB)
Aspect ratio & area
4:3 / 17.3 x 13.0mm
Full resolution
21.8 Megapixels
Engine
Type
2x TruePic VIII
Filter
Dust reduction filter
Supersonic Wave Filter
Viewfinder
Type
Electronical Viewfinder
Pixel number
2360K dots
Diopter adjustment
Yes; -4.0 - 2.0 diopters / built-in type
Field of view
Approx. 100
Magnification
Max. 1.65x with a 50mm lens set to infinity at -1 dioptre (depending on selected viewfinder style)
Eye point
21mm at -1 dioptre from eyepiece lens
Style
3 styles selectable
Displayed information
Aperture value Shutter speed AF frame (super impose) AF confirmation mark AF lock Auto bracket Battery check Exposure compensation indicator Exposure compensation value indicator Exposure level indicator Exposure mode Flash FP flash IS activating mode Metering mode Number of storable sequential pictures White balance Level Gauge Highlight & Shadow Live Pre-view function Histogram
Brightness adjustment
Adaptive Brightness Technology / Manual settings: /- 7 levels
Correction of colour temperature
/- 7 levels
S-OVF
Expands the Live View dynamic range
Live View
Displayed information
Aperture Shutter speed Auto bracket AE lock Focus mode Shooting mode Battery check IS activating mode Face / Eye detection mode Record mode ISO Sequential shooting mode White Balance Metering mode Exposure compensation value AF frame display AF confirmation mark Shooting information Spot metering area Super FP Flash status Touch Panel Condition Focal length Flash mode Histogram Level Gauge Highlight & Shadow Focus peaking Number of storable pictures Custom Face detection Flash intensity WiFi
Field of view
Approx. 100
Magnification levels
3 / 5 / 7 / 10 / 14x
Dynamic range expansion
When in HDR1 or HDR2
Display modes
Comparison Grid (4 types) Grid Histogram Level Gauge Magnified View Standard information Off
Image Stabiliser
Type
Sensor shift
Modes
Five-dimensional, vertical or horizontal activation, automatic
Effective Compensation Range
Up to 7.0 EV steps Up to 7.5 EV steps
Live View stabilisation
Yes
Focusing System
Method
TTL phase difference detection system, contrast detection system
Focus areas
121 points / cross-type phase detection AF 121 points / contrast AF All target, single target (normal / small), group target (5-area / 9-area / 25-area), custom target 1-4 (AF area and its increment steps selectable)
AF working range
-6 - 20EV (ISO approx.100, with a f/1.2 lens)
AF lock
Yes; Locked by first position of shutter release button in single AF mode, AE/AF lock button (customised)
Modes
Manual focus Preset MF Single AF Continuous AF AF Tracking Stacking Bracketing
AF illuminator
Yes
Manual focus
Yes; With enlarged focusing area or focus peaking
Face Detection extension
Eye Detect AF: Off Left side priority Near side priority Right side priority
Predictive AF
Yes
AF tracking
Yes; Available in continuous AF mode
Intelligent Subject Detection AF
Formula cars Ralley cars Motorcycles Aircrafts Helicopters Bullet trains Steam locomotives
Colour selection
White, black, red, yellow
Intensity
High / Normal / Low
Back light effect
On / Off
Number of images
3 - 999shots
Step size
10levels Compatible with: All Micro Four Thirds AF lenses
Technology
3-15 images are taken at different focus points and automatically composited together into a single image Compatible with: M.Zuiko Digital ED 60mm F2.8 Macro, M.Zuiko Digital ED 30mm F3.5 Macro, M.Zuiko Digital ED 7-14mm F2.8 PRO, M.Zuiko Digital ED 12-40mm F2.8 PRO, M.Zuiko Digital ED 12-100mm F4.0 IS PRO, M.Zuiko Digital ED 40-150mm F2.8 PRO, M.Zuiko Digital ED 8mm F1.8 Fisheye PRO, M.Zuiko Digital ED 300mm F4.0 PRO
AF targeting pad
Yes (activate/deactivate with double tap on rear monitor)
Exposure System
Modes
Programme automatic Aperture priority Shutter priority Manual Bulb Time Movie HDR My Mode Custom shooting Custom 1 Custom 2
Exposure compensation
/- 5 EV (1, 1/2, 1/3 steps) Note: Monitor and EVF displays only up to 3 EV.
Exposure bracketing
2 / 3 / 5 frames (/- 1/3, 2/3, 1 EV steps) 7 frames (/- 1/3, 1/2, 2/3 EV steps)
ISO bracketing
3 frames (1/3, 1/2, 1 EV steps)
AE lock
Yes
My Mode
4 settings storable
Enhancement function
Digital Shift (horizontal and vertical compensation can be performed simultaneously). Shadow Adjustment Technology. Flicker Scan: Available for M, S and silent mode (can be confirmed in Live View)
HDR bracketing
3 / 5 frames (/- 2 / 3 EV steps). 7 frames (/- 2 EV steps)
Multi-Exposure
Max. number of frames
2 frames (shooting). 3 frames (editing)
Auto gain control
Yes
Frame assistance
Live View
Light Metering
Method
TTL open aperture light metering
Zones
324 zones Multi-pattern Sensing System
Detection range
-2 - 20 EV (17mm f2.8, ISO 100)
Modes
ESP light metering Spot metering Centre weighted metering Highlight Shadow
Art Filter
Modes
Pop Art Soft Focus Pale & Light Colour Light Tone Grainy Film Pin Hole Diorama Cross Process Dramatic Tone Gentle Sepia Key Line Water colour Vintage Partial Colour Bleach Bypass
Variation / Effect
Available
Art Filter bracketing
Art Filters selectable
Sensitivity
Auto
(customisable, default ISO LOW - 6400)
Manual
ISO LOW - 25600 in 1/3 or 1 EV ISO steps
Shutter
Shutter type
Computerised focal-plane shutter
Self timer
2s / 12s / Custom
Durability
400000 shots
Shutter Speeds
Shutter speed range
1/8000 - 60s (in 1/3, 1/2, 1 EV steps)
Bulb mode
Up to 30 minutes (selectable longest time in the menu, default: 8 minutes)
Shutter type
Electronic shutter
Shutter speed
1/8000 - 60s
Start delay
0, 1/8, 1/4, 1/2, 1, 2, 4, 8, 15. 30s
Resolution
JPEG: 8160 x 6120 / 5760 x 4320 RAW: 10368 x 7776. Equivalent to 50M / 25M pixel sensor (8 shots combined into a single JPEG using sensor shift). Available in P/A/S/M mode
Shutter type
Electronic shutter
Shutter speed
1/8000 - 60s
Resolution
JPEG: 8160 x 6120 / 5760 x 4320 RAW: 8160 x 6120. Equivalent to 50M / 25M pixel sensor (8 shots combined into a single JPEG using sensor shift)
Shutter type
Electronic first curtain shutter
Shutter speed
1/320 - 60s
Start delay
0, 1/8, 1/4, 1/2, 1, 2, 4, 8, 15, 30s
Shutter type
Electronic shutter
Shutter speed
1/32000 - 60s
Start delay
0, 1/8, 1/4, 1/2, 1, 2, 4, 8, 15. 30s
Stills
1/7634 - 1/50s
Movies
1/250 - 1/30s
White Balance
AUTO WB system
Advanced detection system with Live MOS sensor
Manual White balance (One-Touch)
Yes
White balance bracketing
3 frames / /- 2, 4, 6 mired steps
One-touch white balance
4 custom settings can be registered
Custom WB
1 setting can be registered at Kelvin temperature (2000K - 14000K)
Preset values
Tungsten Flourescent 1 Sunlight Flash Overcast Shade Underwater
Auto Flash adjustment
Off / Auto WB / Flash
Keep warm colour
On / Off
Sequence Shooting
Speed (H)
Approx. 15fps. Max. number of frames: RAW 103 / JPG (LF): 132
Speed (L)
10fps. Max. number of frames: RAW 287 / JPG (LF): Up to card capacity
Speed (H)
Approx. 60fps. Max. number of frames: RAW 49 / JPG (LF): 49
Speed (L)
Approx. 18fps. Max. number of frames: RAW 74 / JPG (LF): 89
Speed (H)
Approx. 60fps
Speed (L)
Approx. 18fps
Pre-shutter Frames
0 - 35frames (recorded by half release prior to full release)
Frame count limiter
1- 99frames / Off (unlimited frames) (incl. pre-shutter frames)
Image Processing
Colour space
sRGB / AdobeRGB
Sharpness Contrast
5 levels
Contrast
5 levels
Saturation
5 levels
Black & White filter
Yellow, Orange, Red, Green
Black & White toning
Sepia, Blue, Purple or Green in Black & White mode
Gradation
4levels (auto, high key, normal, low key)
Engine
TruePic VIII
Art Filter bracketing
Available
Tele converter effect
2x
Fisheye compensation
Available when M.Zuiko Digital ED 8mm Fisheye PRO is attached Angle of view adjustable in 3 levels Compensation automatically ON when using Underwater Modes, available (can be confirmed in Live View)
External Flash Control
X-sync speed
1/250s / 1/8000s (Super FP Mode)
Type
TTL AUTO, AUTO, MANUAL, FP TTL AUTO, FP MANUAL
Modes
Auto Red-eye reduction Slow synchronisation 2nd curtain and slow synchronisation Fill-in for exclusive flash Manual
Intensity
/- 3 EV (1/3, 1/2, 1 EV steps)
Wireless Flash Control
Number of channels
4 channels
Compatible external flash
FL-36R, FL-50R, FL-300R, FL-600R, FL-700WR, FL-900R
Control method
Triggered and controlled by bundled flash
Group setting
4 groups. Available when used together with cameras compatible with the Olympus wireless RC flash system.
Monitor
Monitor type
Vari-angle LCD - Touch Panel
Monitor size
7.6cm / 3.0 (3:2)
Resolution
1037K dots
Brightness adjustment
/- 7 levels
Colour balance
/- 7 levels Vivid (default) / Natural
Touch Control fucntions
AF area enlargement AF area selection Art Filter Enlargement Enlargement playback Frame forward/backward Live Guide Scene Modes Shooting mode Shutter release Super Control Panel Wifi connection
Level Gauge
Detection
2-axis
Display
Rear display and viewfinder
Super Control Panel
Displayed information
Battery indicator Record mode Shutter speed Aperture value Exposure compensation indicator ISO AE bracketing AF frame Focus mode AEL notification Face detection Number of storable frames Metering mode Exposure mode Exposure level view Flash compensation value Colour space Gradation Colour saturation compensation value Sharpness compensation value Contrast compensation value White balance White balance compensation value Noise reduction Flash mode Drive mode Internal temperature warning Histogram
Recording Formats
RAW
12bit
RAW & JPEG
Yes; parallel recording
JPEG
Yes
Aspect ratio
4:3 / 3:2 / 16:9 / 6:6 / 3:4
Image Size
RAW
5184 x 3888 compressed. 5184 x 3888 Fine (compression: 1/4)
Still Image Recording
EXIF
2.3
DCF
Yes
RAW
Yes
Dual SD card settings
Standard, Auto Switch, Dual Independent, Dual Same. When two cards are inserted, card to be saved on to or to be viewed can be designated.
Movie Recording System
Recording format
MOV(MPEG-4AVC/H.264)
Picture mode
Flat, OM-Log400 (View assist compatible)
Time code
Rec run / Free run. Drop frame / Non-drop frame
Image Stabilisation Mode
Yes; Sensor shift, M-IS1 (Image sensor shift and electronic image stabilizer with multi motion IS), M-IS2 (Image sensor shift with multi motion IS)
4K Movie quality
4096 x 2160 (C4K) / 24p / IPB (approx. 237 Mbps), 3840 x 2160 (4K) / 30p, 25p, 24p / IPB (approx. 102 Mbps)
HD Movie quality
Full HD 1920 x 1080 (16:9) / 30p, 25p, 24p / ALL-I (A-I), IPB (SF, F, N) (MOV), Full HD 1920 x 1080 (16:9) / 60p, 50p / IPB (SF, F, N) (MOV), HD 1280 x 720 (16:9) / 60p, 50p, 30p, 25p, 24p / ALL-I (A-I), IPB (SF, F, N), ALL-I: 202 Mbps, FullHD IPB (SF: 52Mbps, F: 30Mbps), HD IPB (SF: 26Mbps, F: 14Mbps, N: 10Mbps), HD 1280 x 720 (16:9) / 30p
Movie quality
640 x 480 / 30p (AVI Motion JPEG)
Maximum Recording Time
29min (MOV)
Max. file size
4GB (AVCHD), 2GB (Motion-JPEG)
Exposure Modes
Aperture priority Manual Programme automatic Shutter priority
Movie Specialties
High-Speed Recording
1920x1080 (MOV) / 120fps
Time lapse
4k, 1080p, 720p (AVI Motion JPEG)
Fast motion
Yes
Slow motion
Yes
Movie clips
1, 2, 4, 8s, (Extension up to 16s by pressing record button before clip ends.)
Movie effects
Multi shot echo One shot echo Art fade One push tele-converter Old Film
Art Filter
Cross Process Diorama Dramatic Tone Gentle Sepia Grainy Film Key Line Light Tone Pale & Light Colour Pin Hole Pop Art Soft Focus Vintage Partial Colour Bleach Bypass
Flicker Scan
Available in M mode (can be confirmed in Live View)
Monitor mode
Video signal and info display is processed
Record mode
Only video signal is processed
Sound Recording System
Internal microphone
Stereo
Recording format
Stereo PCM/16bit, 48kHz, Wave Format Base
Image footage
30s
Speaker
Yes
Microphone functions
Wind Noise Reduction Recording Volume Volume limiter Audio Dubbing
Functions
Slate Tone / Synchronised Audio Rec-Movie Rec, Compatible with: LS-100
View Images
Modes
Single Index Clips Calendar Zoom Movie Slide show Light box
Auto rotation
Yes
Histogram in playback mode
Yes
Shooting information
Off / On
Highlight/Shadow point warning
Yes
Erase / Protect / Copy Function
Erase modes
Single, All, Selected
Image protect mode
Single frame, Selected frames, All Frames, Release protect (Single/All selected)
Image Editing
Editing functions
RAW data edit Red-eye reduction Sepia Black & White Resize Correction of saturation Correction of brightness Correction of colour balance Shadow Adjustment Trimming e-Portrait Aspect ratio
Menu
Menu languages in camera
English, French, German, Spanish, Italian, Russian, Czech, Dutch, Danish, Polish, Portuguese, Swedish, Norwegian, Finnish, Croatian, Slovenian, Hungarian, Greek, Slovak, Turkish, Latvian, Estonian, Lithuanian, Ukrainian, Serbian
Customisation Options
Fn Button
Yes
My Mode
4 settings storable (Can be set to mode dial.)
Factory reset
Full / Basic
Programmable button
Yes
Interface

Showcased Accessories

10 found, displaying 1 to 10.

10 found, displaying 1 to 10.

Register a brand new qualifying Olympus PEN, OM-D, Stylus Compact Camera, or M.Zuiko Lens with Olympus to recieve a 6 month extension to your statutory warranty. The extended warranty is not transferrable

---

Customer Reviews

This product has not yet been reviewed.