Panasonic Lumix GX80 Black with 12-32mm F3.5-5.6
Panasonic Lumix GX80 Black with 12-32mm F3.5-5.6
€549.00 €529.00 €20.00
EAN / UPC : 5025232848515 | Brand : Panasonic | SKU : DMC-GX80KEBK
Promotions & Cashbacks
4K recording capability – 4K video, 4K PHOTO and Post Focus
5-Axis Dual I.S. (Image Stabilizer) to be free from any type of blur
True-to-life high quality images with Live MOS sensor and Venus Engine
High speed response and practical AF/MF options
Intuitive control for operational comfort
Photo Style and Focus /Aperture Bracket for more creative photography

Add-ons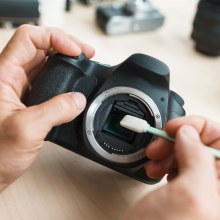 In Stock
| | |
| --- | --- |
| TYPE | |
| Type | Digital Single Lens Mirrorless camera |
| Recording media | SD Memory Card, SDHC Memory Card, SDXC Memory Card (Compatible with UHS-I UHS Speed Class 3 standard SDHC / SDXC Memory Cards) |
| Image sensor size | 17.3 x 13.0 mm (in 4:3 aspect ratio) |
| Lens mount | Micro Four Thirds mount |
| IMAGE SENSOR | |
| Type | Live MOS Sensor |
| Total pixels | 16.84 Megapixels |
| Camera effective pixels | 16.00 Megapixels |
| Color filter | Primary color filter |
| Dust reduction system | Supersonic wave filter |
| Image Stabilization System | Image Sensor Shift Type (5-axis) |
| Recording file format | |
| Still image | JPEG (DCF, Exif 2.3), RAW, MPO (When attaching 3D lens in Micro Four Thirds system standard) |
| Motion picture | AVCHD (Audio format: Dolby Digital 2ch), MP4 (Audio format: AAC 2ch) |
| Aspect ratio | 4:3, 3:2, 16:9, 1:1 |
| Image quality | RAW, RAW+Fine, RAW+Standard, Fine, Standard MPO+Fine / MPO+Standard (with 3D lens in Micro Four Thirds system standard) |
| Color Space | sRGB, AdobeRGB |
| File size(Pixels) | |
| Still Image | [4:3] 4592x3448(L) / 3232x2424(M) / 2272x1704(S) / 1824x1368 (When attaching 3D lens in Micro Four Third system standard) [3:2] 4592x3064(L) / 3232x2160(M) / 2272x1520(S) / 1824x1216 (When attaching 3D lens in Micro Four Third system standard) [16:9] 4592x2584(L) / 3840x2160(M) / 1920x1080(S) / 1824x1024 (When attaching 3D lens in Micro Four Third system standard) [1:1] 3424x3424(L) / 2416x2416(M) / 1712x1712(S) / 1712x1712 (When attaching 3D lens in Micro Four Third system standard) |
| Motion picture | |
| MP4 | [4K] 3840x2160: 4K/25p 100Mbps, 4K/24p 100Mbps [Full HD] 1920x1080: FHD/50p 28Mbps, FHD/25p 20Mbps [HD] 1280x720: HD/25p 10Mbps [VGA] 640x480: VGA/25p 4Mbps |
| AVCHD | [Full HD] 1920x1080 FHD/50p: 28Mbps, 50p recording [Full HD] 1920x1080 FHD/50i: 17Mbps, 50i recording [Full HD] 1920x1080 FHD/25p: 24Mbps, 50i recording (sensor output is 25fps) [Full HD] 1920x1080 FHD/24p: 24Mbps, 24p recording |
| Continuous recordable time (Motion picture) | AVCHD [FHD/50i]: Approx. 100 min (rear monitor), 90 min (LVF) with H-FS12032 / H-H020A / H-FS14140 AVCHD [FHD/50i]: Approx. 100 min (rear monitor), 100 min (LVF) with H-FS35100 MP4 [4K/25p]: Approx. 80 min (rear monitor), 70 min (LVF) with H-FS12032 / H-H020A / H-FS14140 MP4 [4K/25p]: Approx. 80 min (rear monitor), 70 min (LVF) with H-FS35100 |
| Actual recordable time (Motion picture) | AVCHD [FHD/50i]: Approx. 50 min (rear monitor), 45 min (LVF) with H-FS12032 / H-H020A / H-FS14140 AVCHD [FHD/50i]: Approx. 50 min (rear monitor), 50 min (LVF) with H-FS35100 MP4 [4K/25p]: Approx. 40 min (rear monitor), 35 min (LVF) with H-FS12032 / H-H020A / H-FS14140 MP4 [4K/25p]: Approx. 40 min (rear monitor), 35 min (LVF) with H-FS35100 |
| WiFi FUNCTION | |
| WiFi | IEEE 802.11b/g/n, 2412 MHz - 2462 MHz (1-11 ch), Wi-Fi / WPA / WPA2, Infrastructure mode |
| NFC | No |
| QR Code Connection | Yes |
| Password-less connection | Yes (ON / OFF selectable) |
| VIEWFINDER | |
| Type | LCD Live View Finder (2,764,800 dots equivalent) |
| Field of view | Approx. 100 |
| Magnification | Approx. 1.39x / 0.7x (35mm camera equivalent) with 50 mm lens at infinity; -1.0 m-1 |
| Eye point | Approx. 17.5 mm from eyepiece lens |
| Diopter adjustment | -4.0 - +3.0 (dpt) |
| Eye sensor | Yes |
| Eye sensor adjustment | High / Low |
| FOCUS | |
| DFD technology | Yes |
| Post Focus | Yes |
| Type | Contrast AF system |
| Focus mode | AFS (Single) / AFF (Flexible) / AFC (Continuous) / MF |
| AF mode | Face/Eye Detection / Tracking / 49-Area / Custom Multi / 1-Area / Pinpoint (Full area touch is available) |
| AF detective range | EV -4 - 18 (ISO100 equivalent) |
| AF assist lamp | Yes |
| AF lock | Yes (AF/AE LOCK button) |
| Others | One Shot AF, Shutter AF, Half Press Release, Quick AF, Continuous AF (during motion picture recording), Eye Sensor AF, AF+MF, MF Assist, Touch MF Assist, Focus Peaking, Touch AF/AE Function, Touch Pad AF, Touch Shutter |
| Starlight AF | Yes |
| EXPOSURE CONTROL | |
| Light metering system | 1728-zone multi-pattern sensing system |
| Light metering mode | Multiple / Center Weighted / Spot |
| Metering range | EV 0 - 18 (F2.0 lens, ISO100 equivalent) |
| Exposure mode | Program AE, Aperture Priority AE, Shutter Priority AE, Manual |
| ISO sensitivity (Standard Output Sensitivity) | Auto / Intelligent ISO / 100 (Extended) / 200 / 400 / 800 / 1600 / 3200 / 6400 / 12800 / 25600 (Changeable to 1/3 EV step) (Up to ISO6400 in motion picture recording) (ISO Auto in M mode) |
| Exposure compensation | 1/3 EV step 5EV (3EV for motion picture) |
| AE lock | Yes (AF/AE LOCK button) |
| WHITE BALANCE | |
| White balance | Auto / Daylight / Cloudy / Shade / incandescent / Flash / White Set 1, 2, 3, 4 / Color temperature setting |
| White balance adjustment | Blue/Amber bias, Magenta/Green bias |
| Color temperature setting | 2500-10000K in 100K |
| SHUTTER | |
| Type | Focal-plane shutter |
| Shutter speed | Still image: Still image: Time (Max. 2 minutes), 1/4,000 - 60 Motion picture: 1/16,000 - 1/25 Electronic shutter: 1/16,000 - 1 |
| Self timer | 10sec, 3 images / 2sec / 10sec |
| PANORAMA SHOT | |
| Panorama shot | Yes (Standard / Wide) |
| BURST SHOOTING | |
| Burst speed | [Mechanical shutter] AFS: H: 8 frames/sec, M: 6 frames/sec (with Live View), L: 2 frames/sec (with Live View) [Mechanical shutter] AFC: H: 6 frames/sec, M: 6 frames/sec (with Live View), L: 2 frames/sec (with Live View) [Electronic shutter] SH: 40 frames/sec [Electronic shutter] AFS: H: 10 frames/sec, M: 6 frames/sec (with Live View), L: 2 frames/sec (with Live View) [Electronic shutter] AFC: H: 6 frames/sec, M: 6 frames/sec (with Live View), L: 2 frames/sec (with Live View) |
| Number of recordable images | More than 13 images (when there are RAW files with the particular speed) More than 100 images (when there are no RAW files) (depending on memory card type, aspect, picture size and compression) |
| BRACKET | |
| AE bracket | 3, 5, 7 frames in 1/3, 2/3 or 1 EV Step, Max. 3 EV, single/burst |
| Aperture Bracket | 3, 5 or all positions in 1 EV step |
| Focus Bracket | 1 to 999 frames, focus steps can be set in 5 levels |
| White balance bracket | 3 exposures in blue/amber axis or in magenta/green axis |
| TIME LAPSE SHOT | Yes |
| STOP MOTION ANIMATION | Yes |
| FLASH | |
| Flash type | TTL Built-in-Flash, GN6.0 equivalent (ISO200 m) / GN4.2 equivalent (ISO100 m), Built-in Pop-up (Reference) |
| Flash Mode | Auto, Auto/Red-eye Reduction, Forced On, Forced On/Red-eye Reduction, Slow Sync., Slow Sync./Red-eye Reduction, Forced Off For iA, iA+ only. |
| Synchronization speed | Less than 1/160 second |
| Flash output adjustment | 1/3EV step 3EV |
| Flash synchronization | 1st. Curtain Sync, 2nd Curtain Sync. |
| Synchronization for flash dimming and exposure compensation | Yes |
| 4K PHOTO MODE | |
| 4K Photo mode | 4K Burst: 30 frames/sec 4K Burst (S/S): 30 frames/sec 4K Pre-Burst: 30 frames/sec, approx. 2 seconds (depending on memory card size and battery power) |
| Exif information | Yes |
| Selectable aspect ratio | Yes (4:3 / 3:2 / 16:9 / 1:1 are selectable) |
| Exposure mode | Program AE/ Aperture-Priority / Sutter-Priority / Manual Exposure |
| Marking function | Yes (in 4K Burst (S/S) mode) |
| Loop rec function | Yes (in 4K Burst (S/S) mode) |
| SILENT MODE | Yes |
| REAR MONITOR | |
| Type | TFT LCD monitor with static touch control |
| Monitor size | Tilt 7.5cm(3.0-inch) / 3:2 aspect / Wide viewing angle |
| Pixels | Approx. 1,040k dots |
| Filed of view | Approx. 100 |
| Monitor adjustment | Brightness, Contrast, Saturation, Red-Green, Blue-Yellow |
| LIVE VIEW | |
| Digital zoom | 2x, 4x |
| Extra Tele Conversion | Still image: Max. 2x Motion picture: 2.4x (FHD), 3.6x (HD), 4.8x (VGA) |
| Other functions | Level Gauge, Real-time Histogram, Guide Lines (3 patterns), Highlight display (Still image / motion picture), Zebra pattern (Still image / motion picture) |
| DIRECTION DETECTION FUNCTION | |
| Direction Detection Function | Yes |
| FUNCTION BUTTON | |
| Fn1, Fn2, Fn3, Fn4, Fn5, Fn6, Fn7, Fn8, Fn9 | 4K Photo Mode / Wi-Fi / Q.MENU / LVF/Monitor Switch / AF/AE LOCK / AF-ON / Preview / One Push AE / Touch AE / Level Gauge / Focus Area Set / Zoom Control / Cursor Button Lock / Dial Operation Switch / Photo Style / Filter Select / Aspect Ratio / Picture Size / Quality / Metering Mode / Bracket / Focus Mode / Highlight Shadow / i. Dynamic / i. Resolution / Post Focus / HDR / Shutter Type / Flash Mode / Flash Adjust. / Ex. Tele Conv. / Digital Zoom / Stabilizer / Snap Movie / Motion Pic. Set / Picture Mode / Silent Mode / Peaking / Histogram / Guide Line / Zebra Pattern / Monochrome Live View / Rec Area / Step Zoom / Zoom Speed / Touch Screen / Sensitivity / White Balance / AF Mode/MF / Drive Mode / Restore to Default |
| PHOTO STYLE | |
| Still image and motion picture | Standard / Vivid / Natural / Monochrome / L. Monochrome / Scenery / Portrait / Custom |
| CREATIVE CONTROL | |
| Still image | Expressive / Retro / Old Days / High Key / Low Key / Sepia / Monochrome / Dynamic Monochrome / Rough Monochrome / Silky Monochrome / Impressive Art / High Dynamic / Cross Process / Toy Effect / Toy Pop / Bleach Bypass / Miniature Effect / Soft Focus / Fantasy / Star Filter / One Point Color / Sunshine |
| Motion picture | Expressive / Retro / Old Days / High Key / Low Key / Sepia / Monochrome / Dynamic Monochrome / Impressive Art / High Dynamic / Cross Process / Toy Effect / Toy Pop / Bleach Bypass / Miniature Effect / Fantasy / One Point Color |
| MOTION PICTURE FUNCTION | |
| Flicker reduction | [1/50] / [1/60] / [1/100] / [1/120] / OFF |
| PLAYBACK | |
| Playback function | 30-thumbnail display, 12-thumbnail display, Calendar display, Zoomed playback (Max. 16x), Slideshow (All / Picture Only / Video Only / 4K PHOTO / Post Focus / 3D / Category Selection / Favorite, duration & effect is selectable), Playback Mode (Normal / Picture Only / Video Only / 4K PHOTO / Post Focus / 3D Play / Category / Favorite), Location Logging, RAW Processing, Light Composition, Clear Retouch, Title Edit, Text Stamp, Video Divide, Time Lapse Video, Stop Motion Video, Resize, Cropping, Rotate, Rotation Display, Favorite, DPOF Print Set, Protect, Face Recognition Edit, Picture Sort, Creating Still Pictures from a Motion Picture |
| IMAGE PROTECTION / ERASE | |
| Protection | Single / Multi |
| Erase | Single / Multi / All / Except Favorite |
| PRINT | |
| Direct Print | PictBridge compatible |
| INTERFACE | |
| USB | USB 2.0 High Speed Multi |
| HDMI | microHDMI TypeD / VIERA Link Video: Auto / 4K / 1080p / 1080i / 720p / 576p Audio: Stereo |
| Audio video output | No |
| Microphone | Stereo, Wind-cut: OFF / Standard / High |
| Speaker | Monaural |
| LANGUAGE | |
| OSD language | Japanese, English, German, French, Italian, Spanish |
| CREATIVE VIDEO MODE | |
| Exposure mode | Program AE / Aperture-Priority / Sutter-Priority / Manual Exposure |
| POWER | |
| Battery | Li-ion Battery Pack (7.2V, 1025mAh, 7.4Wh) (Included) AC Adaptor (Input: 110 - 240V AC) (Included, connect with USB cable) |
| Battery life (CIPA standard) | Approx. 290 images (rear monitor), 270 images (LVF) with H-FS12032 / H-FS35100 Approx. 280 images (rear monitor), 260 images (LVF) with H-H020A / H-FS14140 |
| DIMENSIONS / WEIGHT | |
| Dimensions (W x H x D) | 122 x 70.6 x 43.9 mm / 4.80 x 2.78 x 1.73 inch (excluding protrusions) |
| Weight | Approx. 426g / 0.94 lb (SD card, Battery, Body) Approx. 383g / 0.84 lb (Body only) Approx. 493g / 1.09 lb (SD card, Battery, H-FS12032 lens included) Approx. 561g / 1.24 lb (SD card, Battery, H-FS35100 lens included) Approx. 628g / 1.39 lb (SD card, Battery, H-FS12032 + H-FS35100 lenses included) Approx. 513g / 1.13 lb (SD card, Battery, H-H020A lens included) Approx. 691g / 1.52 lb (SD card, Battery, H-FS14140 lens included) |
| OPERATING ENVIRONMENT | |
| Operating temperature | 0 to 40 (32F to 104F) |
| Operating humidity | 10RH to 80RH |
| STANDARD ACCESSORIES | |
| Software | The software to edit and playback images on computer is not bundled with DMC-GX80. To do this, PHOTOfunSTUDIO is available for download at Panasonic website using computer connected to the Internet. http://panasonic.jp/support/global/cs/soft/download/d_pfs99pe.html (For Windows) The software to process RAW file on computer is not bundled with DMC-GX80. To do this, SILKYPIX Developer Studio is available for download at Ichikawa Soft Laboratorys website using computer connected to the Internet. http://www.isl.co.jp/SILKYPIX/english/p/ (For Windows / Mac) |
| Standard accessories | DMC-GX80 Kit Hot Shoe Cover, Battery Pack, AC Adaptor, USB Connection Cable, Shoulder Strap, Body Cap The DMC-GX80 Operating Instructions for advanced features is available for downloaded at Panasonic LUMIX Customer Support Site using PC, smartphone or tablet connected to the Internet. |
| NOTE | About motion picture recording / 4K Photo recording - Use a card with SD Speed Class with "Class 4" or higher when recording motion pictures. - Use a card with SD Speed Class with "UHS-I UHS Speed Class 3 (U3)" when recording motion pictures with [MP4] in [4K] or [4K PHOTO]. (SD speed class is the speed standard regarding continuous writing.) - Recording stops when the continuous recording time exceeds 29 minutes and 59 seconds with [AVCHD] in Europe. - Recording stops when the continuous recording time exceeds 29 minutes and 59 seconds or the file size exceeds 4GB with [MP4] in [FHD] [HD] [VGA]. - Recording stops when the continuous recording time exceeds 29 minutes and 59 seconds with [MP4] in [4K]. - When using an SDHC memory card: You can continue recording without interruption even if the file size exceeds 4 GB, but the motion picture file will be divided and recorded/played back separately. - When using an SDXC memory card: You can record a motion picture in a single file. - When the ambient temperature is high or continuous recording is performed, the camera may stop the recording to protect itself. Wait until the camera cools down. For [4K] video output, use an HDMI cable that has the HDMI logo on it, and that is described as"4K compatible". |
Purchase selected Panasonic products and save with instant discounts on cameras, lenses and more. Discounts are strictly subject to availability, and cannot be applied to orders or layaways.
Qualifying products and exact discount values may vary during the promotion, see specific product for more information on the current price.
Offer valid
to 30/08/2022 (inclusive)
. Terms & Conditions Apply.
---