Sony PXW-FS7 Mark II with SEL 18-110mm F4 G OSS
Sony PXW-FS7 Mark II with SEL 18-110mm F4 G OSS
€13,000.00
4548736056039
FS7 II dramatically improves the experience of shooting with Sony's ultimate documentary camcorder and simply one of the world's most versatile Super 35mm camcorders. A host of enhancements, from an all-new lens mount to world-leading Electronic Auto Variable ND system and enhanced ergonomics, transform the possibilities of what you can do.
Shoot and move. Handheld, shoulder-mount or suspended from a gimbal. FS7 II delivers the spectacular imagery you expect from Sony.

Add-ons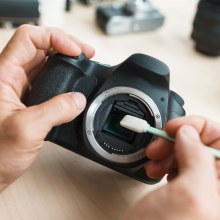 Stunning new Super 35 look
FS5 II's all-new default look is specifically tuned to meet the requirements of today's content creators with rich mid-range colours, alluring facial tones and a softer tonal look tuned with the same expertise as Sony's world-leading VENICE digital cinematography camera. Straight out of the camera your content will look fresh and vivid, with subjects that really stand out, while still retaining plenty of latitude for post production refinement due to the high performance Super 35 ExmorTM sensor.
Making an impact
Standing out from the crowd isn't easy. FS5 II makes it easy with complete creative freedom: slow down time with phenomenal high frame rates up to 120fps in 4K and 240fps 2K/Full HD. Deliver spectacularly vivid HDR imagery with a choice of HLG and S-log2/3.
Grab and shoot mobility
Lightweight but robust, FS5 II is an endlessly adaptable camcorder for capturing breath-taking imagery anywhere the action takes you. Its modular design makes it easy to reconfigure for any application including mounting on a gimbal or drone.
High Frame Rate (HFR) recording
FS5 II delivers stunning slow motion imagery, including four seconds of 120fps in 4K, continuous 240fps in 2K RAW when used in partnership with a compatible third-party external recorder, such as the ATOMOS Shogun and Convergent Design® Odyssey 7Q. FS5 II also offers High Frame Rate (HFR) cache recording at Full HD 10bit 4:2:2 image quality and a frame rate of up to 240 fps. 8-second cache recording on to SDXC card means no more mistimed shots leading to extra takes. It also lets you pick out footage at exactly the point that you want. FS5 II also records continuous 120fps internally in Full HD. Higher frame rates of 480 fps and 960 fps are possible at specific resolutions.
Spectacular HDR performance
Demand for HDR content is increasing and FS5 II offers you a choice of two powerful workflows. Whichever option you choose, a phenomenal fourteen stops of exposure latitude ensures the highest fidelity in capturing highlights and details within shadows. Instant HDR Workflow is all about speed. Shoot, edit and view content in Hybrid Log-Gamma (HLG) to deliver content quickly without compromising on imaging expression and quality of content. S-Log2/3 is the proven choice for premium applications where you wish to capture as much data as possible for the ultimate flexibility in grading
4K Super 35 Exmor (TM) sensor
FS5 II is built around a high-sensitivity 4K Super35 'Exmor' CMOS Sensor that offers all the benefits of a large format sensor in combination with the exceptional image readout speeds required for 4K motion-picture shooting and super slow motion. 4K resolution: 11.6 million total pixels and 8.8 million* effective pixels deliver 4K resolution. Even if you're delivering in HD, your recordings will capture detail and image texture that HD sensors simply cannot see. Super 35 size sensor offers 'bokeh,' the defocussed backgrounds made possible by shallow depth of field, as well as excellent low-light sensitivity and an expansive field of view. 14 stops of exposure latitude deliver powerful grayscale rendition without crushing shadow detail or blowing out highlight detail. Sony's Exmor CMOS design provides high-speed full-pixel read-out capability (without pixel binning) and sophisticated camera processing to ensure jaggies and moiré are minimised. Record 10bit 4:2:2 in Full HD at up 50Mbps internally.
α mount flexibility
Sony's α mount system offers unsurpassed compatibility with both Sony and third-party lenses. FS5 II's E-Mount can take cinema lenses and SLR lenses with a third-party adaptor, as well as Sony's E-mount and A-mount lenses. So whether buying new lenses, or making use of lenses you've already purchased, FS5 II makes it easy.
Built-in electronic variable ND Filters
FS5 II features Sony's unique built-in electronic variable Neutral Density (ND) filter, further expanding the depth of field capability of its large format sensor. Unlike conventional optical ND Filters, the electronic ND Filter on FS5 II can be controlled from 1/4ND to 1/128ND linearly. ND Filters can also be set to auto. This makes FS5 II ideal for fast-moving shoots in changeable environments – there's no need to change filters as lighting conditions change and variable control makes it easy to keep depth of field under control.
New look and creative picture profiles
FS5 II features an all-new default look with beautiful highlights and subtle, well rendered facial tones for more emotive visuals where your subjects naturally stand out. FS5 II saves time in post production while still providing all the flexibility and creative latitude you require. There's also an additional nine Picture Profiles, including ones customised for S-Log2, S-Log3 and a profile specifically tuned to provide vibrant, high contrast visuals for creators who desire a DSLR-style look. Each profile can be individually adjusted to suit your specific requirements and switched between in seconds.
Clear Image Zoom
This proprietary Sony technology significantly extends your ability to get closer to a remote scene while preserving image quality. Once you've zoomed in at maximum optical magnification, By Pixel Super Resolution technology can enlarge the image by additional 200% in Full HD and 150% in 4K. It is also compatible with fixed focal length lenses, so you can zoom into a scene while using a prime lens.
Mass
Approx. 830 g (body only)
Approx. 1 lb 13.2 oz (body only)
Approx. 2.2 kg (with SELP18105G and lens hood [optional], battery pack BP-U30, large eyecup, LCD panel, handle, grip w/o grip belt)
Approx. 4 lb 14.5 oz (with SELP18105G and lens hood [optional], battery pack BP-U30, large eyecup, LCD panel, handle, grip w/o grip belt)
Dimensions (W x H x D) 1
Approx. 111.3 x 128.7 x 172.4 mm (body only including the projecting parts)
Approx. 185.2 x 218.3 x 369.5 mm (with SELP18105G and lens hood [optional], large eyecup, LCD panel, handle, grip w/o grip belt and including the projecting parts)
Approx. 4 1/2 x 5 1/8 x 6 7/8 inches (body only including the projecting parts)
Approx. 7 3/8 x 8 5/8 x 14 5/8 inches (with SELP18105G and lens hood [optional], large eyecup, LCD panel, handle, grip w/o grip belt and including the projecting parts)
Power Requirements
DC 14.4 V (battery pack)
DC 12.0 V (AC adaptor)
Power Consumption
Approx. 11.8 W [60i]
Approx. 11.5 W [50i]
(while recording with LCD Off, EVF On when the external device connector is not used.)
Approx. 12.6 W [60i]
Approx. 12.3 W [50i]
(while recording with LCD On, EVF On when the external device connector is used.)
Operating Temperature
0C to 40C
32F to 104F
Storage Temperature
-20C to +60C
-4F to +140F
Battery Operating Time
With battery pack BP-U90: approx. 6 hours, 40 minutes [60i] approx. 6 hours, 45 minutes [50i]
(While recording with LCD On, EVF Off when the external device connector is not used.)
With battery pack BP-U60: approx. 4 hours, 15 minutes [60i]
approx. 4 hours, 20 minutes [50i]
(While recording with LCD On, EVF Off when the external device connector is not used.)
With battery pack BP-U30: approx. 2 hours, 10 minutes [60i]
approx. 2 hours, 10 minutes [50i]
(While recording with LCD On, EVF Off when the external device connector is not used.)
Recording Format (Video)
XAVC QFHD: MPEG-4 AVC/H.264
4:2:0 Long profile
XAVC HD: MPEG-4 AVC/H.264
4:2:2 Long profile
AVCHD: MPEG-4 AVC/H.264
AVCHD 2.0 format compatible
Recording Format (Audio)
XAVC: Linear PCM 2ch, 24 bit, 48 kHz
AVCHD: Linear PCM 2ch, 16 bit, 48 kHz/Dolby Digital 2ch, 16 bit, 48 kHz
Recording Frame Rate
XAVC QFHD (3840 x 2160) @29.97p, 25p, 23.98p,
100 Mbps/60 Mbps
XAVC HD (1920 x 1080) @59.94p, 50p,
50 Mbps/35 Mbps
XAVC HD (1920 x 1080)@59.94i, 50i,
50 Mbps/35 Mbps/25 Mbps
XAVC HD (1920 x 1080)@29.97p, 25p, 23.98p,
50 Mbps/35 Mbps
XAVC HD (1280 x 720)@59.94p, 50p,
50 Mbps
AVCHD (1920 x 1080)@59.94p, 50p,
PS mode (28 Mbps)
AVCHD (1920 x 1080)
@59.94i/50i/29.97p/25p/23.98p,
FX mode (24 Mbps)
FH mode (17 Mbps)
AVCHD (1280 x 720)@59.94p, 50p,
FX mode (24 Mbps)
FH mode (17 Mbps)
HQ mode (9 Mbps)
Recording/Playback Time
<XAVC Long>
XAVC-L QFHD 100 mode
Approx. 65 min with 64-GB memory card
XAVC-L QFHD 60 mode
Approx. 100 min with 64-GB memory card
XAVC-L HD 50 mode
Approx. 120 min with 64-GB memory card
XAVC-L HD 35 mode
Approx. 170 min with 64-GB memory card
XAVC-L HD 25 mode
Approx. 220 min with 64-GB memory card
Recording/Playback Time Continued
<AVCHD>
AVCHD@LPCM 2ch PS Mode
Approx. 290 min with 64-GB memory card
Approx. 145 min with 32-GB memory card
AVCHD@LPCM 2ch FX Mode
Approx. 340 min with 64-GB memory card
Approx. 170 min with 32-GB memory card
AVCHD@LPCM 2ch FH Mode
Approx. 450 min with 64-GB memory card
Approx. 225 min with 32-GB memory card
AVCHD@LPCM 2ch HQ Mode
Approx. 590 min with 64-GB memory card
Approx. 290 min with 32-GB memory card
Lens Mount
E-mount
Focal Length
5.8x (optical), servo
(SELP18105G)
f 18105mm
equivalent to f 30.6178.5 mm on 35-mm lens (16:9)
(SELP18105G)
Iris
F4
(SELP18105G)
Focus
AF/MF selectable,
Wide: 450 mm to 8
Tele: 950 mm to 8
(SELP18105G)
Image Stabilizer
ON/OFF selectable, shift lens
(SELP18105G)
Filter Diameter
2.83 in
(SELP18105G)
Imaging Device (Type)
"Exmor" Super35 CMOS Sensor
Effective Picture Elements
3840 (H) x 2160 (V) (16:9)
4096 (H) x 2160 (V) (17:9, at RAW output)
Built-in Optical Filters
ND filters
OFF: CLEAR
1: 1/4ND
2: 1/16ND
3: 1/64ND
Linear variable ND (1/4ND to 1/128ND)
ISO Sensitivity
S-Log2/Log3 Gamma ISO2000
Minimum Illumination
0.16 Lux [60i] (IRIS F1.4, GAIN Auto, Shutter Speed 1/24)
0.18 Lux [50i] (IRIS F1.4, GAIN Auto, Shutter Speed 1/25)
Horizontal Rezolution
1000 TV lines or more (1920 x 1080i mode)
Shutter Speed
1/8 to 1/10000 sec. (60i)
1/6 to 1/10000 sec. (50i/24p)
Slow and Quick Motion Function
[30p]: 2160p: Frame rate selectable
1.2.4.8.15.30 fps
[25p]: 2160p: Frame rate selectable
1.2.3.6.12.25 fps
[60i]: 1080p: Frame rate selectable
1, 2, 4, 8, 15, 30, 60, 120 fps
[50i]: 1080p: Frame rate selectable
1, 2, 3, 6, 12, 25, 50, 100 fps
Super Slow Motion Function
[60i] Frame rate selectable
120, 240, 480, 960 fps
[50i] Frame rate selectable
100, 200, 400, 800 fps
White Balance
Preset (3200K), Memory A,
Memory B/ATW
Gain
0,3,6,9,12,15,18,24,27,30dB,AGC
Gamma Curve
Selectable
Audio Input
XLR-type 3-pin (female) (x2), line/mic/mic +48 V selectable
Video Output
Integrated into Multi/Micro USB jack
Composite
1.0 V p-p, 75 O
Audio Output
Integrated into Multi/Micro USB jack
SDI Output
BNC type (x1), SD/HD/3G(Level-B) selectable
SMTPE 259M/292M/424M/425M standards
USB
Multi/Micro USB jack (x1)
Headphone Output
Stereo mini jack (x1)
Speaker Output
Monaural
DC Input
DC jack
Remote
Stereo mini-mini jack (F2.5 mm)
HDMI Output
HDMI connector (Type A)
Viewfinder
1.0 cm (0.39 type) OLED
Approx. 1.44 M dots
LCD
8.8cm (3.5 type)Approx. 1.56M dots
Built-in Microphone
Omni-directional stereo electret condenser microphone
Type
MS/SD(1),SD(1)
Supported Format
IEEE 802.11 b/g/n
Frequency Band
2.4 GHz bandwidth
Security
WEP/WPA-PSK/WPA2-PSK
NFC
NFC Forum Type 3 Tag compliant
Supplied Accessories
Handle (1)
Grip Remote (1)
LCD Panel (1)
Accessory shoe kit (accessory shoe (1), accessory shoe plate (1), screws (4))
USB cable (1)
AC adapter/charger (1) (BC-U1A)
Power cord (1)
Wireless remote commander (1) (RMT-845)
LCD Protector (1)
CD-ROM "Manuals for Solid-State Memory Camcorder" (1)
Operating Guide (2)
BP-U30 battery pack (1)
Large eyecup (1)