Sony ZV-1 Compact Digital Camera for Vlogging
Sony ZV-1 Compact Digital Camera for Vlogging
€799.00
EAN / UPC : 5013493389571 | Brand : Sony | SKU : ZV1BDI.EU
Promotions & Cashbacks
Get €50.00 Off using SONYB2S at Checkout
Register to Claim Cashback on Selected Accessories
Sony 2 Year Warranty
Sony's Vlog Camera ZV-1 - designed for vlogging and content creation - provides professional image quality with its 1.0-type stacked CMOS sensor.
The vari-angle LCD screen combined with the newly added grip to the body provides safe and solid holding, making selfie-shooting easy. Soft Skin Effect allows for natural skin tones and optimised brightness for faces. A directional 3-capsule mic and wind shield is supplied with this camera for recording high sound quality.
The ZV-1 vlog camera comes with a Product Showcase Setting for perfect product review videos and Bokeh Switch for easy background blur control, and can be used with Sony's Imaging Edge Webcam Software for Livestreaming. Also featuring Sony's innovative Real-time Eye AF technology, the ZV-1 camera locks on and tracks people's eyes, even when shooting 4K movies.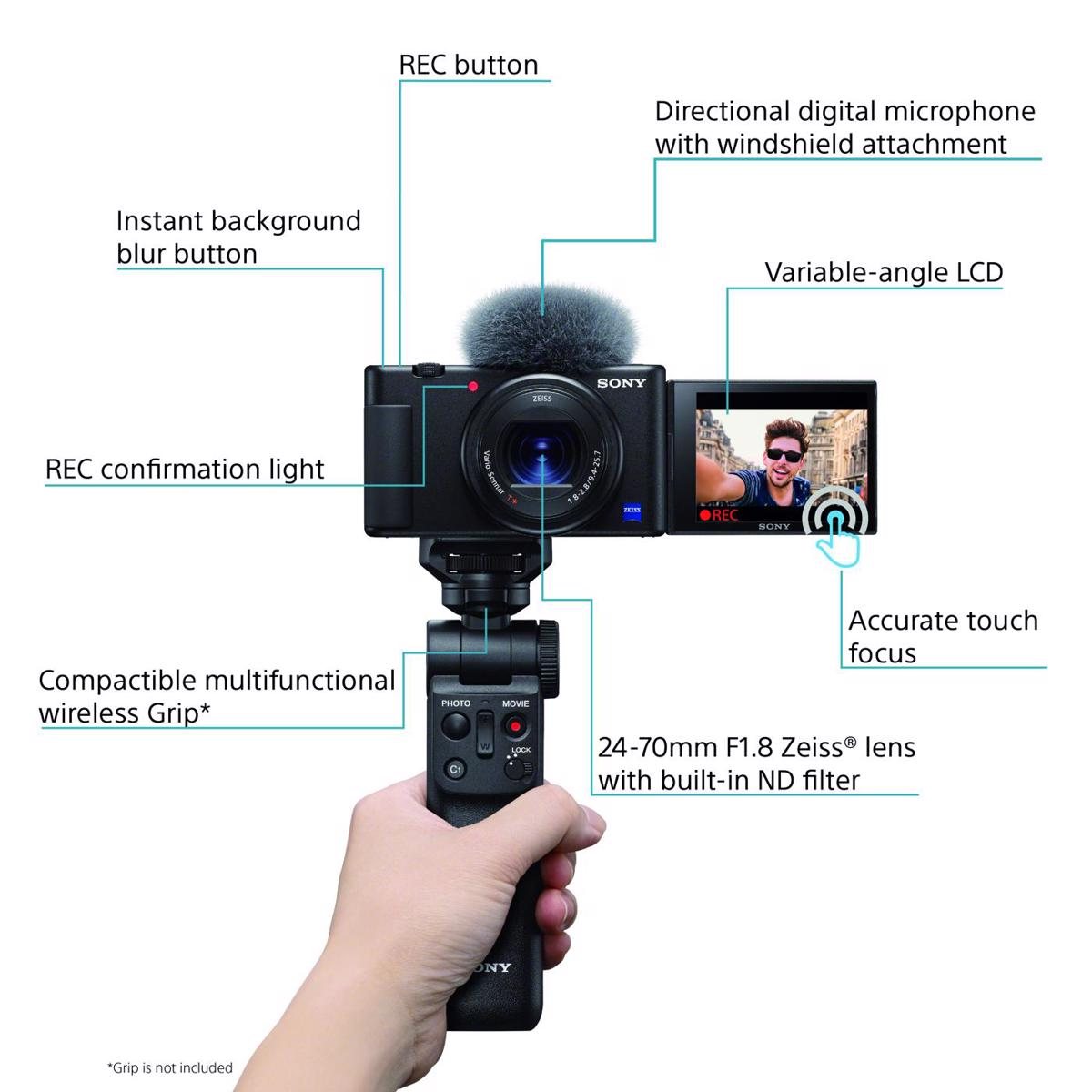 With the vari-angle screen, selfie-shooting is easy on the ZV-1, and you can check the framing while shooting. Because it is side-opening, it doesn't interfere with an external mic attached to the Multi Interface Shoe when shooting selfies. The newly added grip to the body provides safe and solid holding, and for selfies, you can comfortably hold the grip using your thumb. A recording lamp also features on the front face of the body - the lamp glows while recording, providing an at-a-glance indication of movie recording and eliminating the possibility of accidentally failing to record.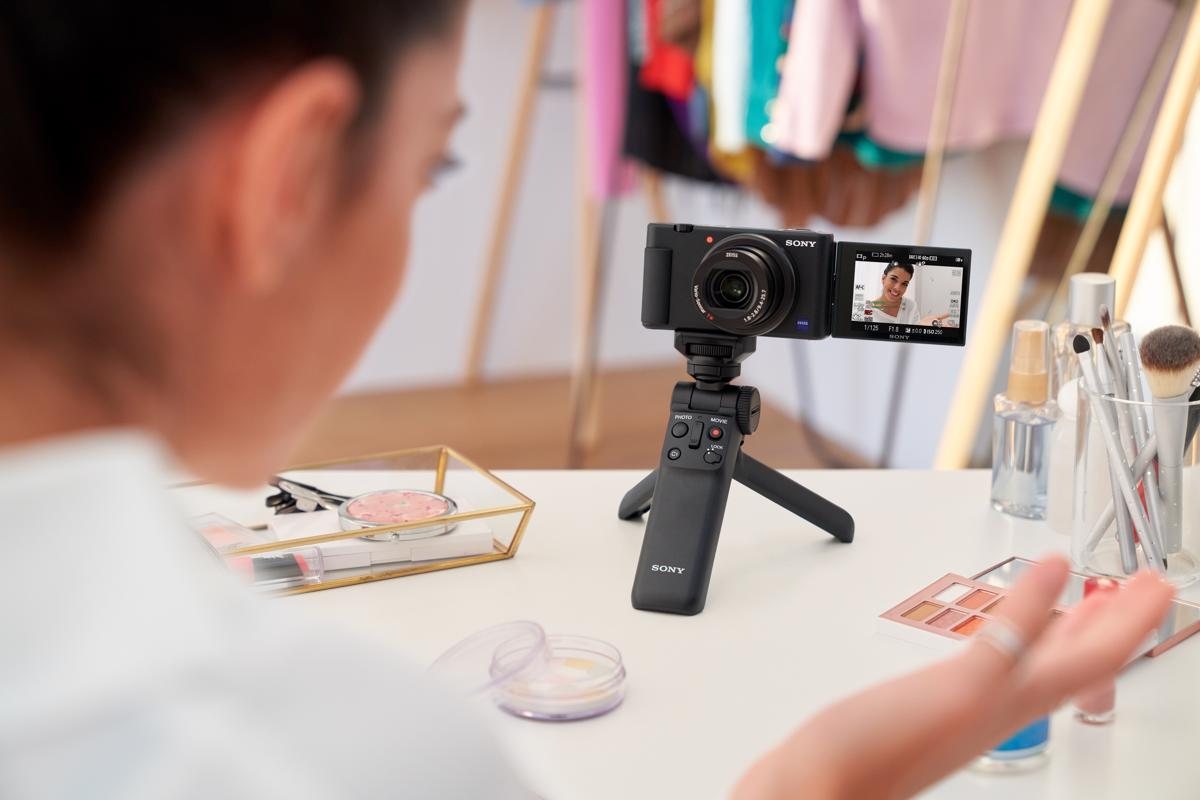 Soft Skin Effect is effective on this ZV-1 premium camera, even when movie shooting. The Soft Skin Effect reduces skin wrinkles and marks while preserving the sharpness of eyes and mouths, and can be selected from the four settings OFF / LO / MID / HI according to your desired level of smooth skin effect. In addition, based on wide-ranging investigations of skin tones, hues are reproduced that make the subject look healthy and natural, irrespective of age, gender, or ethnicity. Skin tones are optimised for both movies and stills to deliver ideal subject emphasis when using your vlogging camera for YouTube, Instagram, and other platforms. Finally, an original face priority AE algorithm - capable of rapid AE transitions - detects the face and adjusts the exposure to ensure it is depicted at optimal brightness, even during selfie-shooting scenes with large light-dark changes.
The high sound quality recording technology nurtured on Sony's advanced video camera models is deployed on the Vlog Camera ZV-1. Improved sound gathering performance and noise reduction are realised by 3 mic capsules for clear sound recording at high density. Recorded sound is of high quality - close to the original - with fantastic stereo impression. In addition, a genuine wind screen that greatly reduces wind noise is supplied. Attaching this wind screen to the MI shoe reduces noise in windy outdoor conditions to allow clear recording of the speaker's voice.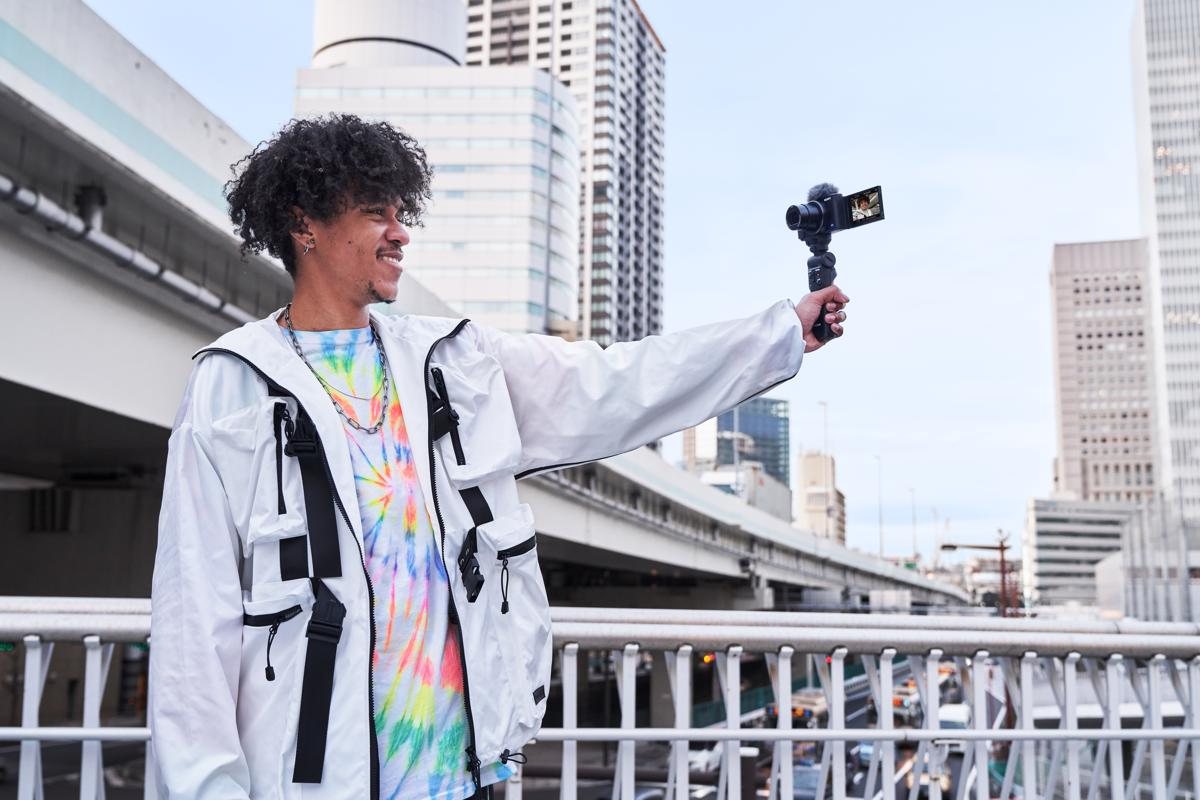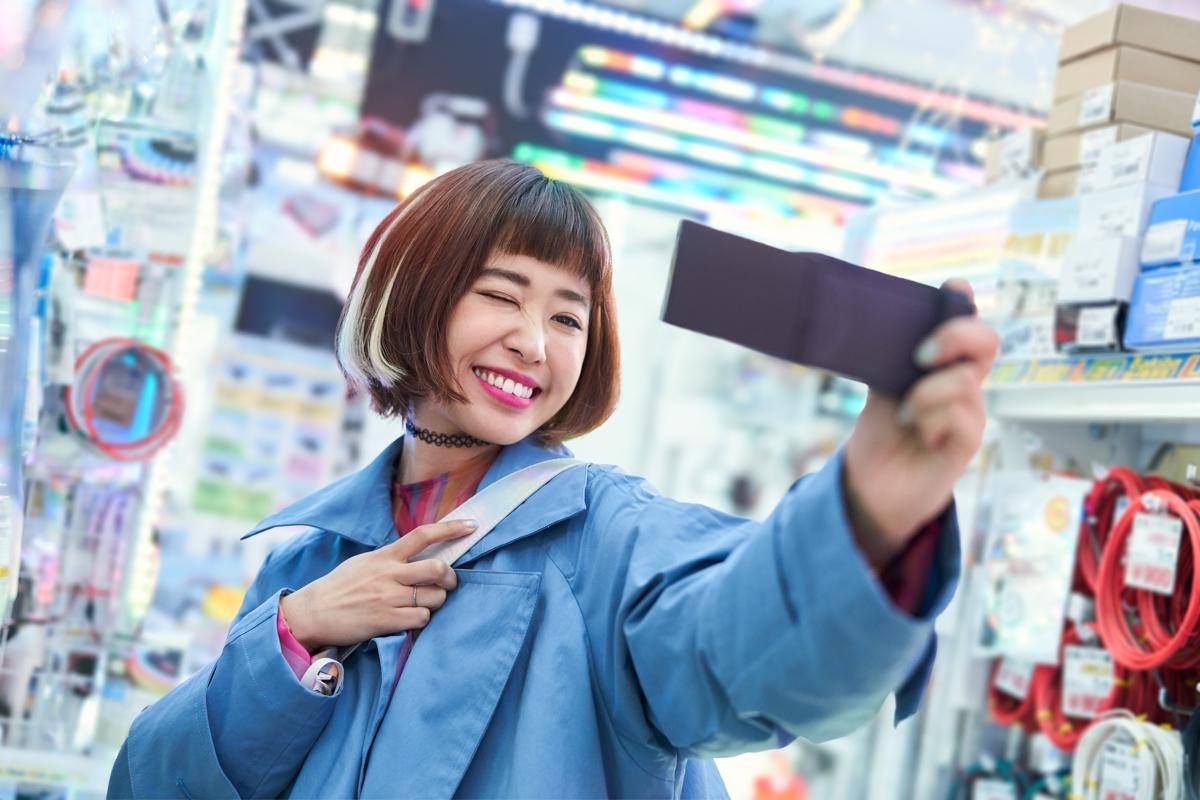 By simply pressing the Bokeh Switch (C1), a fully-open or F5.6 can be switched on, so even without a deep knowledge of cameras and video, you can obtain the blurred background effect you desire on this Sony camera. Another simple operation - Product Showcase Setting - enables the focus to shift rapidly from your face to a product. This is assigned by default to the C2 custom button, so the appropriate settings can be recalled and applied with just one touch for convenient creation of product review videos.
Get leading-edge movie AF for vlogging! Developed for the interchangeable-lens camera Alpha series, Real-time Eye AF locks on and tracks subjects with high accuracy and speed. It uses AI-based subject recognition technology to detect eye information in real-time, allowing people's eyes to be recognised and tracked, even when shooting 4K movies.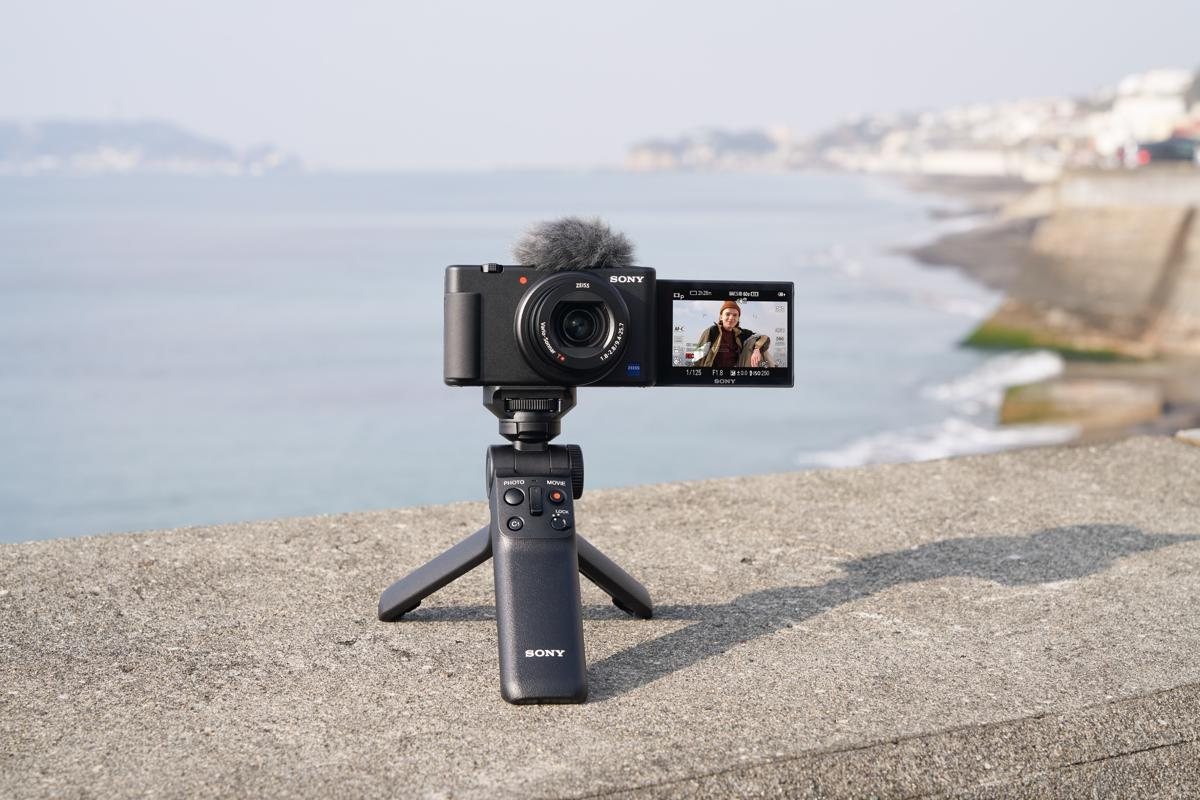 Sensor
Type
CMOS (Exmor RS)
Size / Pixels
1.0-type / 20.1
Lens
Focal Length
24-70mm
*35mm format equivalent
Max aperture
F1.8-F2.8
Optical zoom
2.7x
Optical image stabiliser
Yes
AF
System
Contrast & Phase Detection
Points
315
Coverage (Phase detection)
65%
Speed
0.03sec
Eye AF
Still
Human (right/left eye select) / Animal
Movie
Human (right/left eye select)
Continuous shooting
With AF/(AE)
24fps
Movie
Resolutions/ Frame rate
4K: 30p/24p
FHD: 120p/60p/30p/24p
Format
XAVC S, AVCHD
Movie
(Super slow motion)
Resolutions/ Frame rate
FHD: 60p/30p/24p
HFR
960fps, 480fps、240fps
Format
XAVC S
Screen
Size
3.0in
Dots
1229K
Touch focus
Yes
Articulated LCD
Vari-angle, Opening 176 deg. Rotation 270 deg.
Viewfinder
-
Others
Wi-Fi
Yes
NFC
-
Accy shoe
Yes
Microphone jack
Yes
Internal flash
-
Stamina (movie*/still)
*actual shooting
LCD
45 min./260 shots
EVF
-
Size & weight
Dimensions
105.4 x 60.0 x 44.0mm
Weight (inc. battery & media)
294g
Sony Solution for Easy, High-quality Live Streaming and Video Calls
Compatible with 35 Sony Camera Models at Launch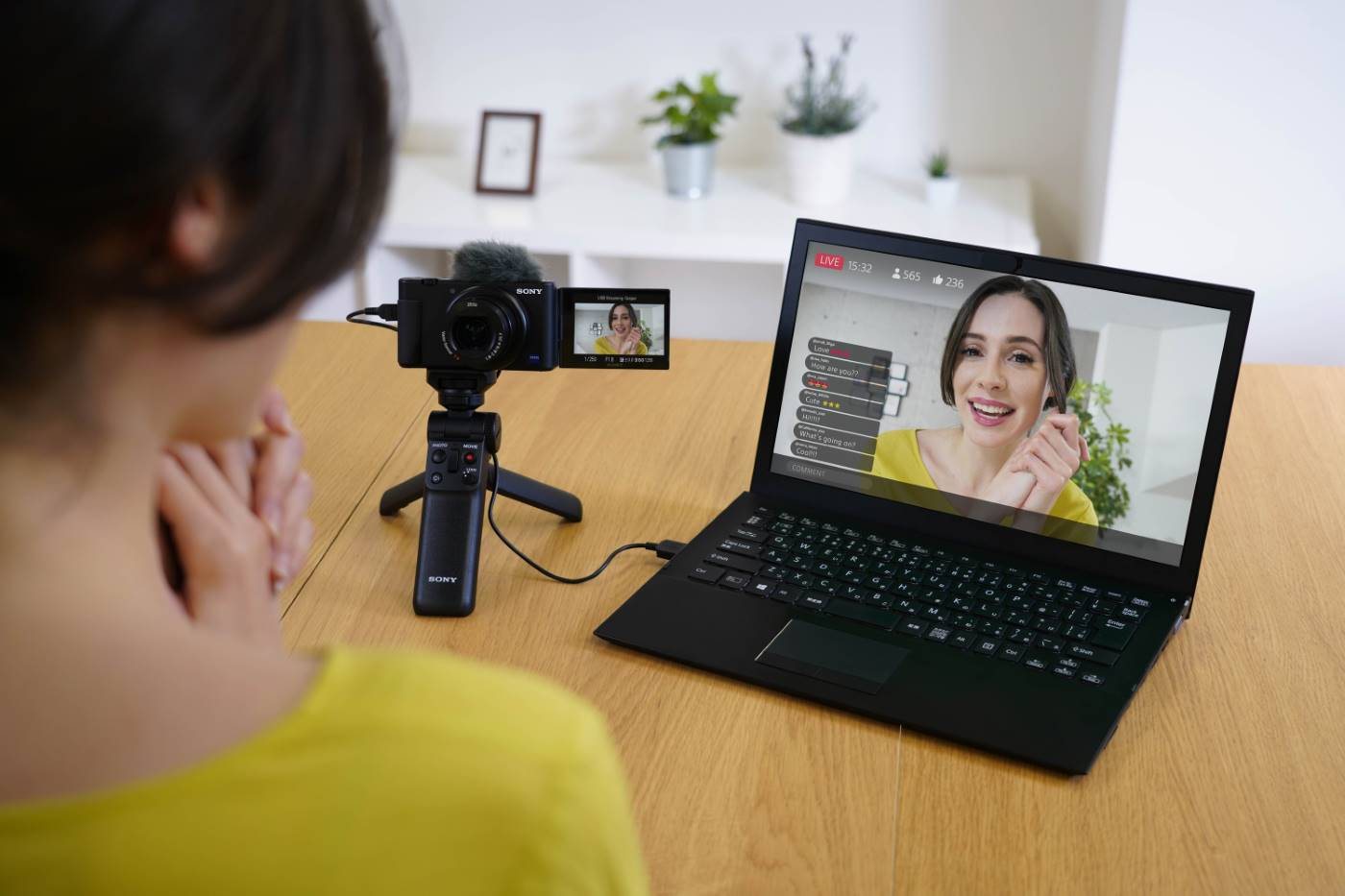 In August 2020 Sony announced the release of a new Desktop application, 'Imaging Edge™ Webcam', that allows users to easily transform their Sony digital camera[i] into a high-quality webcam by simply connecting it to a PC[ii] or Mac[iii] via USB[iv], free of cost. 'Imaging Edge Webcam' allows users to live stream and video conference in one easy step while also taking full advantage of Sony's advanced imaging technology, such as industry-leading autofocus, high resolution picture quality and additional unique features of each compatible camera. The new 'Imaging Edge Webcam' desktop application is available to download HERE, and you can find full instructions on how to connect HERE.
Following a firmware upgrade certain cameras (starting with the ZV-1) can also connect directly with selected Xperia™ smartphones[iv] for on-the-go livestreaming with high video and audio quality.
"We will continue to adapt and evolve to meet the needs of our customers. Their voice is critical to everything that we do in this industry" said Yann Salmon-Legagneur, Director of Product Marketing, Digital Imaging, Sony Europe. "Given the growing demand for live streaming and video communication, we're excited to share a new application that give so many loyal Sony's customers the ability to quickly and easily transform their camera into a highly effective webcam for live streaming, video calls and so much more."
Some cameras, including the ZV-1 (with v2.0 firmware or later), are also support UVC/UAC and capable of being connected directly to certain Sony Experia mobile phones for streaming.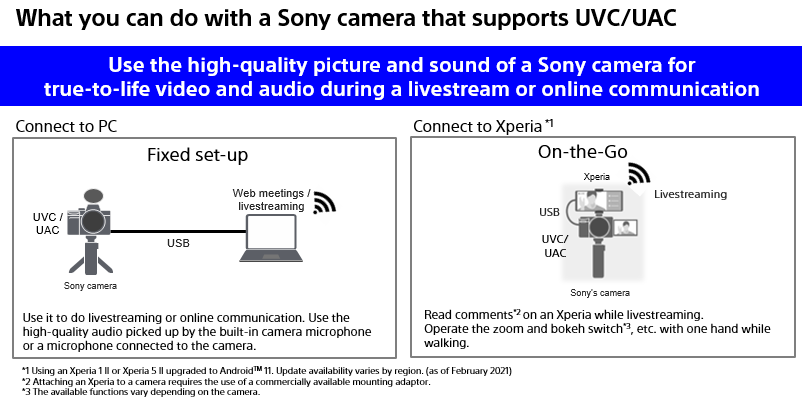 'Imaging Edge Webcam' was compatible with 35 Sony camera models when it launched, including: A9 II, A7R IV, A7R III, A7R II, A7R, A7S III, A7S II, A7S, A7 III, A7 II, A6600, A6400, A6100, RX100 VII, RX100 VI, RX0 II, RX0, and ZV-1. For the full current list of compatible models CLICK HERE.
[i] Please refer to the website for a full list of compatible models. Firmware must be updated on cameras to ensure compatibility.
[ii] Windows 10 64bit required.
[iii] macOS 10.13 - 10.15 or macOS 11 required (Excluding Macs with Apple silicon).
[iv] Charges select Sony Camera models while connected via USB. Please refer to the website for a full list of compatible models.
[v] Xperia 1 II or Xperia 5 II required, upgraded to Android 11.
Showcased Accessories
5 found, displaying 1 to 5.
5 found, displaying 1 to 5.
Simply enter the coupon code SONYB2S during the checkout process to get a discount of Up To €200 on qualifying Sony cameras or lenses.
This promotion is strictly subject to availability, and cannot be applied to orders or layaways which are not collected during the promotional period.
Offer valid from 21/08/2023
to 30/09/2023 (inclusive)
. Terms & Conditions Apply.
---
Claim Up To €100 off Your Next Lens or Accessory Purchase When You Register Your New Camera On 'My Sony'


Purchase any eligible Sony camera and register it on "My Sony" to receive an email containing THREE voucher codes (per camera body). Each code entitles you to claim up to €100 cashback from Sony when you register the purchase of a qualifying new lens or accessory!
This promotion CAN be combined with other Sony promotions including Welcome to Alpha, seasonal cashback promotions, or any special discounts. Camera to be bought between 1st April 2023 and 30th June 2024. Offer available on selected Sony cameras purchased prior to or together with participating Sony lenses and/or accessories.
This promotion is strictly subject to availability, and cannot be applied to orders or layaways which are not collected during the promotional period.
---
All qualifying Sony items bought directly from Conns Cameras automatically come with a 2 Year Sony Warranty, without the need to register the product or claim an extension. This offer is only available on selected cameras and lenses (below list is subject to frequent updates by Sony Ireland). The extended warranty is not transferrable
---