Atomos Ninja V+
Atomos Ninja V+
€999.00
EAN / UPC : 814164022569 | Brand : Atomos | SKU : ATOMNJVPL1
Promotions & Cashbacks
Claim a free Assimilate Play Pro Studio license
The Ninja V+ is the next stage in the evolution of the multi-award winning Atomos Ninja, delivering up to 8Kp30 and 4Kp120 continuous recording in Apple ProRes RAW while inheriting HDR, 4Kp60 RAW and video as well as HDp120 slow motion from it's little brother, Ninja V.
With the ability to capture in 8Kp30 and 4Kp120, the Ninja V+ allows you to stay ahead of the game and manage your projects whilst ensuring that you have the flexibility to grow your system. Future-proofed quality and formats allow you to stay compatible with newly released and existing cameras, in a world where new cameras are released frequently and technology is advancing at an incredible pace.
The Ninja V+ takes advantage of the new Atomos Silicon chip, the AtomIC3, AtomOS 10 and the incredible efficiency of ProRes RAW to deliver these increased resolutions and frame rates. The new formats also integrate seamlessly into the timeline of your existing ProRes RAW or ProRes projects, without huge storage or processing overheads.
Open Standard Formats from Every Camera
Apple ProRes is the world's Pro Video standard for Video and RAW capture, and the number of cameras which support RAW recording over HDMI on the Ninja V+ continues to grow. ProRes RAW combines the visual and workflow benefits of RAW video with the incredible real-time performance of ProRes, giving filmmakers enormous latitude when adjusting the look of their images, making it an ideal solution for HDR workflows.
The Ninja V+ also captures up to 4Kp60 in 10-bit 4:2:2 from almost every camera manufacturer, like Panasonic, Nikon, Olympus, Leica, Fujifilm, Z Cam, RED and ARRI. It also builds upon the great workflow and versatility of Ninja V, that unites the world's leading camera manufacturers and the industry standard editing software for our customers.
The Ninja Solution
Smaller cameras are incredibly capable these days, but they can still be limited in terms of battery life when recording RAW and high frame rates, use expensive internal media and can have recording limits. The Ninja V+ provides a solution to these issues with longer recording times, professional power solutions and affordable SSD media options. In addition, you get a stunningly bright 5.2" monitor with an astounding 1000nits – 10.5 stops of HDR, plus a huge range of features that can enhance your workflow, from AtomOS Monitor Assist features like Focus Peaking, Zoom, Vectorscopes & False Color through to Safe Areas and Cine Guides. Our AtomHDR engine also processes the incoming Log/RAW/HDR signals from your camera or device and displays the HDR screen of the Ninja V+.
Ready for the future
The Ninja V+ will record 8Kp30 ProRes RAW from the Canon EOS R5 mirrorless camera via a standard HDMI 2.0 connection. Atomos and Canon have worked together for the past 2 years to bring customers a world first in capturing stunning 8K RAW and HDR images with incredible clarity and detail in a compact and configurable system that is very affordable in comparison to other 8K setups. Explore all possibilities when shooting in 8K. Canon and Atomos have democratized 8K for the masses with no compromise in quality. More to come in late 2021 with an update from Canon.
Starting with the Canon EOS R5
The ProRes RAW format is a perfect vehicle for an 8K workflow, from ease of use natively on the timeline within Final Cut Pro to the flexibility of RAW image processing with full adjustment of Exposure, WB and ISO. Coupled with the proven Full Frame EOS R5, lens systems and AF, this combination will propel content creators to a whole new level in terms of image quality and production value.
More Power. Less Weight.
Pairing the Ninja V+ with the Canon EOS R5 gives you a powerful yet compact 8K camera package that fits in your hands and can be flexibly built out to suit your needs. It can be the basis of a compact cinema rig or you can easily create a lightweight setup. The Canon EOS R5 with a 24mm Cine Lens, Ninja V+, NPF battery and media comes in under 3KG/7lb, which can be easily carried by a wide range of aerial drones, gimbals and stabilizers, vehicles and robot arms.
Resolution means Creative Flexibility
With the broad canvas of 8K resolution, your options for creative crops into a region of interest, allowing you to extract multiple 4K shots from a single camera angle. This allows you to create additional shots for cutaways to break up the edit that are higher in resolution than if the shots were extracted from a single 4K source.
Create multiple high-resolution vertical or square crops in regions of interest in post for social media, which can be previewed on the Ninja V+ with social media frame guides. This allows you to maximize the camera's resolution to achieve 4K 9:16 vertical aspect ratios without having to compromise the way you shoot for mainstream delivery.
Stabilise Without Compromise
With the incredible resolution of 8K video, the final shot will likely still have a resolution of 4K or 6K. You can integrate with other 8K footage on the timeline and still look great.

Razor Sharp Screenshots
High resolution screenshots from 8K full frame cameras offer the ability to create scene plates for small scale virtual production stages or use in other content platforms.
Pristine 4Kp120 ProRes RAW
The Ninja V+ allows you to capture content at up to 4Kp120 in pristine ProRes RAW for high frame rate video that has exceptional image quality. This is a great alternative to using the internal compressed codecs on your camera for high frame rate recording, as they can apply higher levels of colour compression and subsampling, leading to potential artifacts or limitation in the edit/grade.
See the Unseen
Capture and visualize the unseen with 4Kp120 recording at up to ProRes RAW from the Ninja V+ and Sony FX6/FX9 and Z CAM E2 /E2-M4 models, with more models to follow. Fully harness the dynamic range of the sensor, capture every aspect of motion and movement directly via RAW over SDI* or HDMI. Another benefit is being able to play back the high frame rate video captured on the Ninja V+ at various play back speeds to preview the adjustments you can make on your NLE timeline. See the Ninja V+ Pro Kit section for information on capturing 4Kp120 ProRes RAW from the SDI RAW output of the Sony FX9* and Sony FX6*.
*The FX9 requires the XDCA-FX9 Extension unit and both the FX6 and FX9 require the AtomX SDI module with RAW activation (or the Pro Kit).
An Incredible Codec Arsenal
With the flexibility of providing options for RAW, visually lossless edit ready files, and proxy/sharable files, scale your needs for quality and file size.
Apple ProRes RAW – supporting 16bit RAW outputs from camera via HDMI and optionally via SDI
Apple ProRes – An industry standard edit-ready codec from Apple with scalable levels of compression
Avid DNx – An industry standard edit-ready codec for Avid editors with scalable levels of compression
H.265 (HEVC) – The highly efficient compressed codec allows you to create high-quality files with a low bit rate and small file size for sharing. You can also create 4K HDR 10-bit deliverables and have the option to 'bake in' LUTs to achieve the final pixel LOOK without the need to grade the footage.

Atomos devices can monitor and record professional audio and video from any HDMI or SDI device. Not only cameras, but also Mac, PC, Game Consoles and Industrial devices. While the devices can record almost anything, to be useful you'll want to ensure that your camera has a "clean output" i.e. no menu information on the sensor output. The list below will allow you to browse cameras that are compatible with a specific Atomos device. To search for compatible Atomos devices based on the camera you own try their ALL PRODUCTS page.

Physical Specifications
Dimensions (W x H x D mm)
151 x 91.5 x 31 mm
Weight
360 g / 12.7 oz
Mount points
Anti-rotational 3/8-16 screw mount points, 1/4-20 screw mount adaptor installed. 1x top and 1x bottom
Environmental
Ambient operating temperature
Up to 40 Degrees Celsius
Construction and Control
Body
Aluminium alloy chassis with ABS Polycarbonate back plate
Cooling
Actively controlled fan and Heat Sink
Tally light
Rear and front
Multi-function button
Power / lock Screen
AtomXpansion slot
Yes
Power
Input voltage
5.8 - 7.2V (Battery)
Operating power
10-22W
Compatible batteries
NP-F L series and supporting accessories
Built in battery
No
Battery Run time (Record)
5200mAh - up to 2hrs (monitor & record 4K 60p) 7800mAh - up to 3hrs (monitor & record 4K 60p)
Battery Run time (Monitor only)
5200mAh - up to 2hrs (monitor & record 4K 60p). 7800mAh - up to 3hrs (monitor & record 4K 60p)
Continuous power
Enabled by optional AtomX SYNC Expansion Module
DC in connector
Via DC Jack on Battery eliminator
Dtap
Via Battery Eliminator and optional D-Tap to DC cable
Display
Touchscreen
SuperAtom IPS panel (capacitive touch) calibration to Rec.709 with optional calibration unit
Size
5.2"
Resolution
1920 x 1080
PPI
423
Bit depth
10Bit (8+2 FRC)
Backlight Type
Edge lit
Brightness (cdm2 / nits)
1000 +/- 10%
Aspect ratio
16:9
De-interlace mode
I > P and PSF > P
Color Gamut
Rec.709
Calibration support
Atomos Calibrator with Calibrite ColorChecker Display Pro or ColorChecker Display Plus (Retail)
Color Pipeline
Gamma
Sony SLog / SLog2 / SLog3, Canon CLog / CLog2 / Clog3, ARRI Log CEI160 / LogCEI200 / LogCEI250 / LogCEI320 / LogCEI400 / LogCEI500 / LogCEI640 / LogCEI800 / LogCEI1000 / LogCEI1280 / LogCEI1600, Nikon N-Log, Panasonic V-Log, JVC J-Log1, Olympus OM-Log400 / Flat, Lecia L-Log, Z Cam Z-Log2, RED LogFilm / RED Log3G10 / RED Log3G12, FujiFilm F-log, PQ (HDR10), HLG
Gamut
Sony SGamut / SGamut3 / SGamut3.cine, Canon Cinema, DCI P3 / DCI P3+, Nikon NLog, Panasonic V-Gamut, Arri Alexa Wide Gamut, Rec709, BT.2020, FujiFilm F-Gamut, JVC LS300, RED WideGamut / RED DragonColor / DragonColor2 / RED Color2 / RED Color3 / RED Color4 Sony SGamut / SGamut3 / SGamut3.cine / Canon Cinema / DCI P3 / DCI P3+ / BT2020 Panasonic V Gamut Arri Alexa Wide Gamut Rec709 JVC LS300 Red DragonColor / DragonColor2 / RedColor2 / RedColor3 / RedColor4 / RedWideGamut
3D LUT Display
.Cube Format
3D LUT Down Stream
Loop out
3DLUT 50/50
Yes
Monitoring Modes
Native / HLG / PQ / 3D LUT
HDR output Conversion
Log / HDR to HLG / PQ / Dolby Vision
Video Input
HDMI
1 x HDMI (2.0) 4k p60
HDMI RAW
Apples ProRes RAW up to 8k
SDI
2 x 12G SDI Backward compatible via optional AtomX SDI module
SDI RAW
Optional with AtomX SDI module + SDI RAW activation
Bit Depth
8/10-Bit Video / RAW up to 12Bit
Video Chroma Subsampling
420 and 422
HDCP copy protection
Not supported
Metadata
HDMI
RAW - white balance, exposure index, shutter speed/angle, iris F-stop, ISO, gamma, gamut
SDI
File name from Arri & RED via Optional AtomX SDI Module
Video Output
HDMI
1 x HDMI (2.0) 4k p60
SDI loop out
Optional Via AtomX SDI module
SDI Play out
Optional Via AtomX SDI module
Video Chroma Subsampling
4:2:2
Bit Depth
10-bit Video / 12-bit RAW
Web Streaming
USB UVC
Optional Via Connect 4k
Video Signal Conversion
HDMI to SDI
Optional Via AtomX SDI module
SDI to HDMI
Optional Via AtomX SDI module
Audio In/Out
Audio Quality
24-bit 48kHz
Audio Codec
PCM
HDMI
8ch 24-bit, input dependent
SDI
12ch 24-bit, input dependent
Analogue Audio in
3.5mm 2ch.
Analogue Audio Out
3.5mm 2ch.
Headphone out
3.5mm 2ch.
Timecode / Sync
Embedded
HDMI and SDI
Time of day
Yes, Time and Date
LTC
via 3.5mm audio Jack input (Requires post processing)
Wireless SYNC
Via Optional AtomX SYNC Module
Resolution and Frame Rates (Record, Monitor & Playback)
8k
RAW Only up to 30p via HDMI
6k
RAW Only up to 30p via HDMI and SDI (Camera dependent 5.9k HDMI and 5.7k SDI)
5k
RAW Only up to 30p via HDMI
4k DCI
23.98/24/25/29.9/30/50/59.94/60p - HFR 100/120 via RAW over HDMI & SDI on selected cameras
4k UHD
23.98/24/25/29.9/30/50/59.94/60p
2K DCI 2046 x 1080
Optional via AtomX SDI module
Anamorphic
3.5k: RAW up to 60p (from supported cameras only)
FHD 1920 x 1080 Progressive
23.98/24/25/29.9/30/50/59.94/60/100/120p
FHD 1920 x 1080 PsF
converted to P and looped out PsF
FHD 1920 x 1080 Interlaced
23.98/24/25/29.9/30/50/59.94/60i
1280 x 720p
50/59.94/60p
Recording CODEC
Apple ProRes RAW
ProRes RAW, ProRes RAW HQ (Free activation via my.Atomos.com)
Apple ProRes
LT, 422, 422HQ
Avid DNxHD
DNxHD 220x,220,145,36 (Free activation via my.Atomos.com)
Avid DNxHR
LB, SQ, HQ, HQX (Free activation via my.Atomos.com)
H.265
LQ, MQ, HQ in 8/10Bit, 422 and 420 (Free activation via my.Atomos.com)
Playback
Playlist
Yes, Create custom play lists from full or sub clips
Loop
Yes, with user customisable in / out markers
Apple ProRes Raw
Yes, recorded clips
Apple ProRes
Yes, with Linear PCM audio
Avid DNx
Yes, with Linear PCM audio
H.265
Yes, recorded clips with Linear PCM audio
Recording functions
Pre-roll record
Yes (HD 8s, 4K 2s) - Not available in RAW
Timelapse
Yes
Multi Input / Switching
SDI A/B toggle
Via optional AtomX SDI module
Multiple HDMI input
Via optional AtomX CAST module
Supported media
Master Caddy I
Not compatible
SSDmini
Native Size and Fit
CFast II
Supported cards via optional SSDmini CFAST II Adaptor
File Naming
Unit Name - Scene/Shot/Take
File System
ExFAT
On screen tools
Waveform
Yes, 3 size / Position
RGB parade
Yes, 3 size / Position
Vector scope
Yes, 2 size / Position
1 x Zoom
Yes. 1:1 Pixel mapping for 4k
2 x Zoom
Yes
Focus peaking
Color selected / threshold setting / color / mono / edges only
False colour
Yes, with Scale
Zebra
Yes, Adjustable
Isolate color channel
Blue Only
Cine Frame Guides
2.4:1, 2.35:1, 1.9:1, 1.85:1, 4:3
Social Frame guides
9:16, 1:1, 1.91:1, 4:5
Safe areas
Action and Graphic
Grid markers
9 grid
Anamorphic desqueeze
1.25x 1.33x , 1.5x ,1.8x ,2x
Display Flip
Vertical Only
Onboard Signal Processing
Pulldown Removal
24/25/30pSF > 24/25/30p (2:2 pulldown), 60i > 24p (3:2 pulldown)
4K UHD Downscale for HD
Loop out - 4K UHD to FHD
DCI Crop
Loop out - 17:9 to 16:9 Crop
Remote control
HDMI
Auto HDMI Trigger, Supported Protocols - Canon, Sony, Atomos Open Standard
SDI
SDI trigger camera selectable
Serial 2.5mm Jack
LANC control and calibration via optional USB to serial cable
Bluetooth LE
Via optional AtomX SYNC module
Wireless RF
Via optional AtomX SYNC module
External Device Control
Serial 2.5mm Jack
Camera control for supported cameras via Optional USB to Serial Cable
Bluetooth LE
Via optional AtomX SYNC module to compatible devices
Wireless RF
Via optional AtomX SYNC module to compatible devices
Supported Applications
XML
Cut tag EDL in FCPX XML
Apple ProRes RAW
Apple FCP, Adobe Premier, After Effects, Avid Media Composer, GrassValley Edius, Assimilate Scratch, Baselight Film Light.
Video Codecs
All Applications with support for Apple ProRes, H.265 and Avid DNX in .MOV wrapper
What's in the box
Ninja V+
Ninja V +, EVA Carry case, 5" Protective Monitor sleeve, Battery eliminator, international DC power supply, 1x MasterCaddy II and QuickStart Guide
Ninja V+ Pro
Ninja V+ (with RAW over SDI and H.265 upgrade pre-activated), AtomX SDI Expansion Module, DC to D-Tap cable, Power Supply, 1x 5″ Sunhood, 1x Battery Eliminator, EVA Carry Case, 5″ Protective Monitor Sleeve, 1xMaster Caddy II and Quick Start Guide
Optional extras
Sunhood, DC to D-Tap, Power Kit, HDMI Cables, USB to Serial cable, AtomX SYNC, AtomX SDI, AtomX CAST modules, UltraSync ONE, UltraSync Blue
Warranty
Standard
1 year. Extended to 3 years on product registration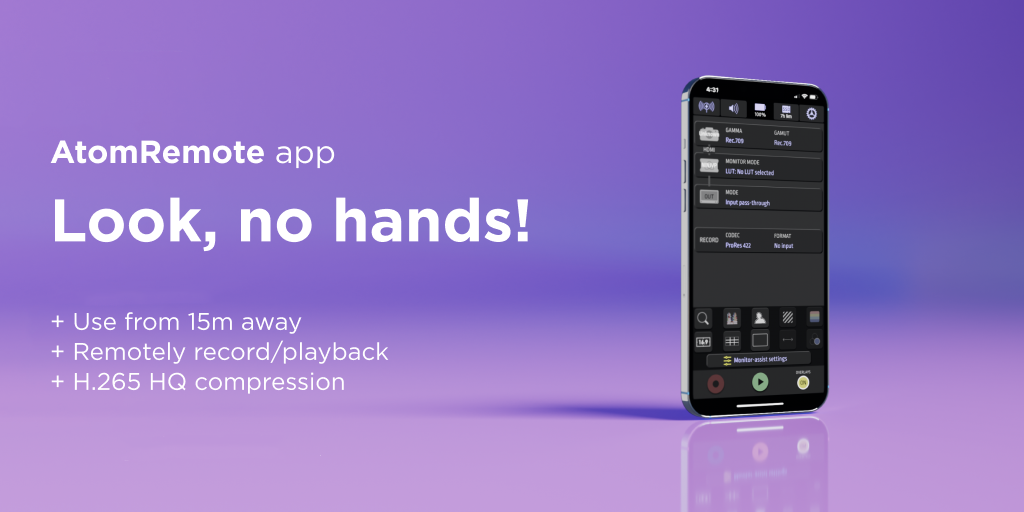 The AtomRemote app provides external controls for ATOMOS devices including the Shogun CONNECT, NEON 17, and NEON 24; as well as the NINJA V and NINJA V+ equipped with the ATOMOS CONNECT accessory or an AtomX SYNC module.
The external remote control not only brings freedom to create, but also means flexibility on the field. Shooting in specific situation is sometimes a challenge for creators; space related issues, reduced staff on set and creative needs where external control of the unit seems to be the only option to get the shot! All that creators need to do to start enjoying access to the main monitoring functions and recording setting from iPhone, iPad or computer is to update their Ninja V or Shogun CONNECT to the latest firmware AtomOS 10.84, install the AtomRemote APP in their iOS device. That's it!
The app communicates wirelessly via Bluetooth LE to perform remote configuration and operation tasks. Input options let you select connection type, select gamma/EOTF, and adjust gamut settings. For monitoring, AtomRemote can control playback, select dynamic-range settings, apply custom 3-D LUTs, and use default color-space transformations. Output controls provide options for 4K-to-HD downconversion and HDR output. In addition to starting and stopping a recording, AtomRemote can activate a full suite of image-analysis tools, including exposure and focus assistance.
AtomRemote enables configuration and operations via Bluetooth® LE to:
define camera connections to switch between HDMI/SDI inputs
select gamma/EOTF and make gamut settings to convert LOG to an HDR image
remotely operate recording and playback functions
activate on-screen tools such as focus peaking, 1:1 zoom, frame guides, waveforms
select monitoring modes use i.e., use Native to display the incoming signal as is, or monitor in HDR by using the HLG and PQ modes
apply custom 3D LUTs to preview creative looks on set, or baking a LUT into the recording for quick turnarounds
Being able to adjust these settings remotely is ideal for situations when it is difficult or unsafe to access your rig, such as when it is mounted out of reach as part of a "crash cam" setup or on a gimbal or stabilizer.
Visit the App Store for more details or to download AtomRemote today.
Showcased Accessories
2 found, displaying 1 to 2.
2 found, displaying 1 to 2.
All customers buying and registering a qualifying Atomos Product from 22nd of May till 30th of June are entitled to receive a free Assimilate Play Pro Studio license valued at €299 directly from Atomos at the time of registering and claiming the offer via my.atomos.com.
Customers that bought and registered their units before 22nd of May can get their license for an exclusive discounted price of €99 via my.atomos.com.
Offer valid from 22/05/2023
to 30/06/2023 (inclusive)
. Terms & Conditions Apply.
---