Sony ZV-1 Mark II Compact Digital Camera for Vlogging
Sony ZV-1 Mark II Compact Digital Camera for Vlogging
€999.00
EAN / UPC : 4548736155756 | Brand : Sony | SKU : ZV1M2BDI.EU
Promotions & Cashbacks
Save €100 On Selected Accessories
Register to Claim Cashback on Selected Accessories
Sony 2 Year Warranty
The ZV-1 II is the perfect vlogging camera to create your stories and share your world. Equipped with an integrated 18-50mm zoom lens that lets you capture the whole world around you and also focus closer on your subject, the ZV-1 II delivers great 4K video quality thanks to the large 1-inch sensor.
Sony's renowned vlogging features are available at the press of a button, and if you want to give your content a more cinematic look, simply turn on the Cinematic Vlog mode to deliver more dramatic looking content.
Finally, connect the Sony vlogging camera to your smartphone via the Creators' App to effortlessly transfer your videos to then share on social media.

Add-ons
In Stock
---
Out of Stock
In Stock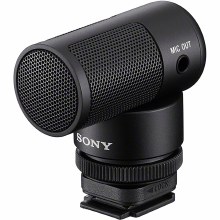 Out of Stock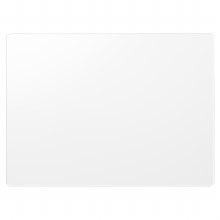 In Stock
---
In Stock
---
In Stock
---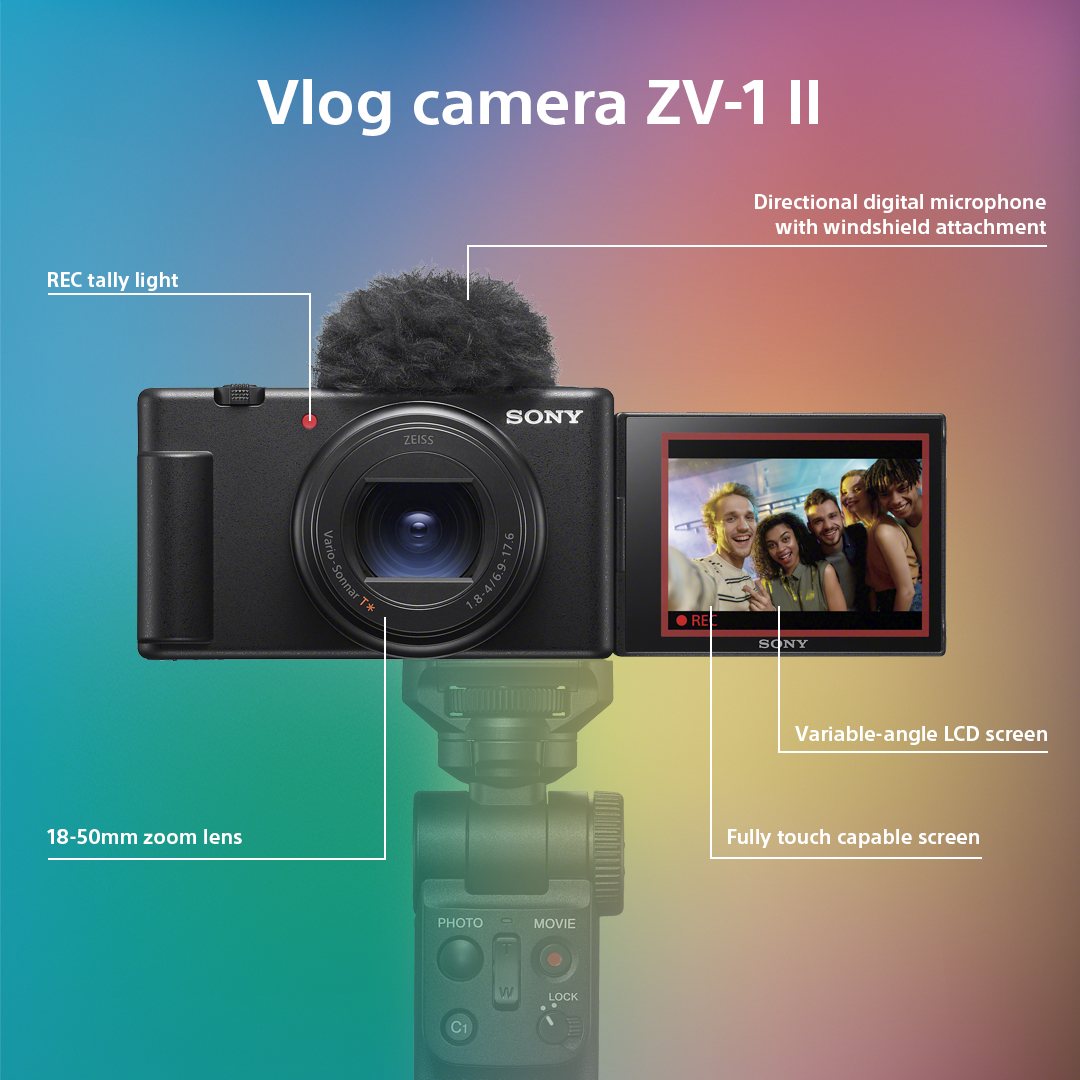 Frame it all
With the vlog camera ZV-1 II, you can shoot everything from group selfies to sprawling cityscapes. The wide-angle 18 mm lens can capture a wider field of view than the human eye, so you can easily fit everyone or everything in the frame. Whether you're indoors or out, the wide-angle lens turns everyday scenes into dynamic footage.
Versatile framing
The ZV-1 II lets you frame your shots exactly how you want, thanks to its wide-angle zoom lens. 18 mm is great for selfies, while 50 mm is ideal for portraits and snapshots. What's more, the maximum apertures of F1.8 with the wide-angle and F4 with the telephoto give a smooth background bokeh, adding all the atmosphere you need.
Creative colours
No experience is needed to make an impressive vlog with all the right visuals from the outset. My Image Style lets you simply tweak brightness and colour while viewing what you plan to shoot - all without having to wade through menus. For shots with more creative colour and mood, Creative Look offers ten presets so simply select one that matches your vision.
Add a dramatic touch
Just tap the screen to turn everyday moments into cinematic imagery, all without post-production editing. With the Cinematic Vlog Setting, the camera automatically shoots in a Cinemascope aspect ratio at 24 fps — the film industry standard. You can also change the colour of your footage simply by selecting from five LOOKs and four MOODs for instant, professional results.
Built-in mic for clear voice recording
In [Auto] mode, the new built-in Intelligent 3-Capsule Mic switches the direction of the built-in mic from [All Directions] to [Front] when the camera recognises a human face in the frame. Or you can switch manually to [Front] for selfies or [Rear] when shooting with narration. Attach a supplied windscreen to reduce wind noise and capture clearer audio outdoors.
Effortlessly portable
Small and lightweight, the vlog camera ZV-1 II is designed to be taken out anywhere - just like your smartphone. Weighing just 292 g , capture everyday life with ease and grab content on the go.
Simple, intuitive control
Even first-time vloggers can jump straight into shooting with the ZV-1 II; there's no need to study complex settings. Touch function icons like recording and self-timer are displayed on the screen for easy control. These are also great for shooting selfies or in other situations when you can't reach the physical buttons on the camera.
Focus on you
The ZV-1 II automatically makes sure you always stay in focus with Touch Tracking. It recognises human faces and eyes, so it keeps track of the main subject without wandering off. Just tap the subject on the screen to activate the feature. Eye AF can even be set to track animal faces and eyes.
Powerful image stabilisation
Shaky footage can ruin the best of vlogs, but the ZV-1 II is built to let you capture great footage even while you're walking and shooting handheld. Active Mode helps to minimise camera blur, giving you steadier shots without the need for any post-shoot editing.
Stand out with just a tap
The ZV-1 II is designed for easier content creation. Activate the Product Showcase Setting and the camera will automatically focus on the product you're holding with no additional gestures needed. Or use Bokeh Switch to get a softly blurred background - simply select [Defocus] to make the subject stand out, or [Clear] to keep the entire image in focus.
Selfies made simple
Let the ZV-1 II work for you to capture great group moments. When taking selfies in iAUTO mode with two or three people, the camera automatically adjusts the setting to keep everyone's faces sharp and clear.
Always look your best
Look your best any time you're shooting. Without any special settings, the ZV-1 II accurately captures your skin tone, ensuring a healthy and natural look. Face Priority AE automatically brightens your face so there's no need to worry about lighting either. There's also a Soft Skin Effect selectable to OFF/ Low/ Mid /High to adjust your skin smoothness.
Always know when you're recording
Say goodbye to accidentally missing the action. When you press the MOVIE button or tap the record icon on the LCD screen, the recording lamp glows red and a red frame appears on the screen, letting you know instantly that you're capturing what counts. The rotatable screen means you can also track recording while shooting from any angle.
Shooting grip for easy vlogging
Vlogging is simpler and more comfortable with the optional GP-VPT2BT wireless shooting grip, which enables you to grab more stable shots and also doubles as a tripod. The zoom lever and recording button are on the grip side, so you don't have to stretch around the camera every time to reach key control buttons.
Simple smartphone connection
Connecting your camera and smartphone has never been easier thanks to the Creators' App mobile application. Data transfers continue in the background even if the smartphone display sleeps or a different app is launched. You can also turn your smartphone or PC into a remote control to operate the camera from a distance.
Simple streaming with a single cable
Transform the ZV-1 II into a high-quality web camera just by connecting a compatible device via USB. The large 1.0-type image sensor and Creative Look presets ensure vibrant visuals.
Sony's cloud services
Log in to the Creators' Cloud to make the most of Sony production support tools. This gives you access to cloud services like Master Cut (Beta), which uses camera metadata and cloud AI to efficiently create rough movie edits, saving you valuable time. Or use Ci Media Cloud to make team collaboration on production simpler and smoother.
High quality imagery
The ZV-1 II packs powerful specs in its compact body, offering impressive image quality. Its large 1.0-type image sensor means it can capture professional-level footage, shooting in XAVC S format up to 30p and in 4K, and up to 120p in Full HD for up to 5x slow motion. It also supports simultaneous proxy recording for efficient post-production workflow.
Grows with your creativity
With the ZV-1 II, it's easy to take the next steps towards boosting your videography skills. Just like professional Cinema Line or α series cameras, the ZV-1 II supports S-Log3 and S-Gamut3.Cine picture profiles, giving you even greater flexibility for post-production.
Built-in ND filter
The ZEISS® Vario-Sonnar T* 18-50mm F1.8-4 zoom lens has a built-in neutral density (ND) filter to control light exposure by three stops, giving images greater expressiveness in bright light. The lens maintains sharpness throughout the zoom range, allowing you to take capture all the shots you need to bring your vlog to life.
Next level audio quality
Raise your vlog audio quality even further by connecting external microphones. For example, the ECM-G1 clearly captures sound in front of the camera and can be attached without a cable. Or take your pick from Sony's extensive line-up, designed to suit a broad range of applications.
Road to Zero
Inspired by the beauty of the world, Sony is doing its part to help preserve the Earth, while still allowing creators to produce even more beautiful and creative imagery. With a goal of achieving a zero environmental footprint across the entire Sony Group by the year 2040, we are accelerating numerous initiatives for the environment.
Non-plastic outer packaging
The outer packaging of the ZV-1 II does not contain plastic, but instead uses Sony's Original Blended Material, consisting of bamboo, sugar cane, and recycled paper. This unique blend not only produces high quality and durable packaging, but it is also recyclable for an even lower environmental impact.
Using recycled plastic
SORPLAS™ is a Sony-developed durable and repeatedly recycled material. We use it in conjunction with other recycled materials to manufacture camera bodies without compromising performance and functionality. Approximately 379 tons of virgin plastic have been replaced by recycled plastics in our digital cameras and digital video cameras over the past ten years.
Wind screen using recycled polyester
The fibres used in the wind screen provided with the ZV-1 II are made exclusively from recycled PET bottles. Extensive testing was carried out to ensure that sound quality and wind noise reduction performance were fully up to our standards, achieving environmental impact reduction without compromising functionality.
Enhanced accessibility with screen reader
The screen reader function enables text on menu screens to be read aloud. It's easy to activate by navigating to the [Setup] tab and turning the [Screen Reader] function ON. Screen reader volume can be adjusted via the [Sound Options] settings.
Lens
F-NUMBER (MAXIMUM APERTURE)
F1.8 - F4.0
FOCAL LENGTH
f = 6.9 - 17.6 mm
FOCAL LENGTH (35MM FORMAT EQUIVALENT)
18 - 50 mm
FOCUS RANGE (FROM THE FRONT OF THE LENS)
Approx. 5 cm (0.17 ft) to infinity
Camera Section
SENSOR TYPE
1.0-type (13.2 mm x 8.8 mm) Exmor RS CMOS sensor
NUMBER OF PIXELS (EFFECTIVE)
Still images: Approx. 20.1 megapixels, Movies: Approx. 16.8 megapixels max.
NUMBER OF PIXELS (TOTAL)
Approx. 21.0 megapixels
BUILT-IN ND FILTER
ND (1/8 ND)
COLOR TEMPERATURE RANGE
2500 K - 9900 K
Recording (still images)
RECORDING FORMAT
JPEG (DCF Ver. 2.0, Exif Ver. 2.32, MPF Baseline compliant), RAW (Sony ARW 4.0 format)
IMAGE SIZE (PIXELS) [3:2]
1.0-type L: 5472 x 3648 (20 M), M: 3888 x 2592 (10 M), S: 2736 x 1824 (5.0 M)
IMAGE QUALITY MODES
RAW, RAW+JPEG, JPEG
Recording (movie)
VIDEO COMPRESSION
XAVC S: MPEG-4 AVC/H.264
AUDIO RECORDING FORMAT
LPCM 2ch (48 kHz 16 bit)
Recording system (Movie)
MOVIE RECORDING SYSTEM (XAVC S 4K)
29.97p (100 Mbps / 60 Mbps), 25p (100 Mbps / 60 Mbps), 23.98p (100 Mbps / 60 Mbps)
MOVIE RECORDING SYSTEM (XAVC S HD)
119.88p (100 Mbps / 60 Mbps), 59.94p (50 Mbps / 25 Mbps), 29.97p (50 Mbps / 16 Mbps), 23.98p (50 Mbps), 100p (100 Mbps / 60 Mbps), 50p (50 Mbps / 25 Mbps), 25p (50 Mbps / 16 Mbps)
Movie Functions
SLOW & QUICK MOTION (SHOOTING FRAME RATE)
Yes
PROXY RECORDING
Yes
TC / UB
Yes
Recording System
MEMORY CARD SLOT
Multi slot for Memory Stick Duo/SD memory card
Focus System
FOCUS TYPE
Fast Hybrid AF (phase-detection AF / contrast-detection AF)
FOCUS POINT
Still images: Max. 315 points (phase-detection AF), Movies: Max. 273 points (phase-detection AF)
FOCUS TYPE
Human, Animal
FOCUS TYPE
Human, Animal
OTHER FEATURES
AF Subj. Shift Sensitivity (Movie), AF Transition Speed (Movie), Circ. of Focus Point
Exposure Control
METERING TYPE
1200-zone evaluative metering
METERING SENSITIVITY
EV0 to EV24 (ISO 100 equivalent)
EXPOSURE COMPENSATION
+/- 3.0 EV (1/3 EV steps)
ISO SENSITIVITY
Still images: ISO 125 - 12800 (expandable to ISO 80 - 12800), AUTO (ISO 125 - 12800, selectable lower limit and upper limit), Movies: ISO 125 - 12800 equivalent, AUTO (ISO 125 - 12800, selectable lower limit and upper limit)
ANTI-FLICKER SHOOT.
-
Viewfinder
VIEWFINDER TYPE
-
LCD Screen
MONITOR TYPE
7.5 cm (3.0-type) type TFT
TOUCH PANEL
Yes
NUMBER OF DOTS
921 600 dots
ADJUSTABLE ANGLE
Opening Angle: Approx. 176 °, Rotation Angle: Approx. 270 °
Other Features
OTHER FEATURES
Cinematic Vlog Setting, My Image Style, Creative Look, Product Showcase Set., Background Defocus, Soft Skin Effect, Custom function, Picture Profile
CLEAR IMAGE ZOOM
Approx. 2x
Shutter
SHUTTER TYPE
Electronic shutter
SHUTTER SPEED
Still images: 1/32000 to 1/4 s,Movies: 1/12800 to 1 s
FLASH SYNC. SPEED
1/100 s
Image Stabilization
TYPE
Electronic
MODE
Movie: Active / Off
Flash
TYPE
-
CONTROL
Pre-flash TTL
FLASH COMPENSATION
+/- 3.0 EV (switchable between 1/3 EV steps)
EXTERNAL FLASH COMPATIBILITY
Sony α System Flash compatible with Multi Interface Shoe
Drive
CONTINUOUS DRIVE SPEED (APPROX. MAX.)
Hi: 24 fps
NO. OF RECORDABLE FRAMES (APPROX.)
JPEG Extra fine L: 170 frames, JPEG Fine L: 188 frames, JPEG Standard L: 189 frames, RAW: 80 frames, RAW & JPG: 78 frames
Playback
MODES
Enlarged display mode, Protect, Rating, Shot Mark (Movie), Divider Frame, Photo Capture
Accessibility
FUNCTIONS
Screen reader, Focus Magnifier, Peaking Display, Subject Recognition in AF, Touch Focus, Touch Tracking, Touch Shutter, Touch AE, Vari-angle LCD screen, Custom function
Interface
PC INTERFACE
Mass-storage / MTP
USB TYPE-C TERMINAL
Yes (Hi-Speed USB 480 Mbps (USB 2.0) compatible)
WIRELESS LAN(BUILT-IN)
Yes (Wi-Fi Compatible, IEEE 802.11b/g/n (2.4 GHz band))
BLUETOOTH
Yes (Bluetooth Standard Ver. 4.2 (2.4 GHz band))
HDMI CONNECTOR
HDMI micro connector (Type-D) 3840 x 2160 (30p / 25p / 24p) / 1920 x 1080 (60p / 50p / 24p) / 1920 x 1080 (60i / 50i), YCbCr 4:2:2 8bit / RGB 8bit
MULTI INTERFACE SHOE
Yes
MIC TERMINAL
Yes (3.5 mm Stereo minijack)
FUNCTIONS
View on Smartphone, Remote control via Smartphone, PC Remote
USB Streaming
VIDEO DATA FORMAT
MJPEG
VIDEO RESOLUTION
1280 x 720 (30p)
AUDIO DATA FORMAT
LPCM 2ch (16bit 48 kHz)
Audio
MICROPHONE
Built-in, stereo
SPEAKER
Built-in, monaural
Power
SUPPLIED BATTERY
Rechargeable Battery Pack NP-BX1
BATTERY LIFE (STILL IMAGES)
Approx. 290 shots (LCD monitor) (CIPA standard)
BATTERY LIFE (MOVIE, ACTUAL RECORDING)
Approx. 45 min (LCD monitor) (CIPA standard)
BATTERY LIFE (MOVIE, CONTINUOUS RECORDING)
Approx. 75 min (LCD monitor) (CIPA standard)
INTERNAL BATTERY CHARGE
Yes
USB POWER SUPPLY
Yes
POWER CONSUMPTION WITH LCD SCREEN
Still images: Approx. 1.9 W, Movies: Approx. 3.6 W
Operating temparature
OPERATING TEMPERATURE
0 - 40 ℃ / 32 - 104 °F
Size & Weight
DIMENSIONS (W X H X D)
Approx. 105.5 x 60.0 x 46.7 mm (4 1/4 x 2 3/8 x 1 7/8 inches)
Supplied Accesory
WHAT'S IN THE BOX
Rechargeable Battery NP-BX1, Wind Screen, Wind Screen Adaptor
Showcased Accessories
8 found, displaying 1 to 8.
8 found, displaying 1 to 8.
Save €100 each on selected accessories when bought with a pre-ordered ZV-1 mark II vlogging camera. The offer is cumulative with "Welcome to Vlogging" and "Summer Cashback" promotions which means you could save up to €150 off each product!
This promotion is strictly subject to availability, and cannot be applied to combinations unless bought together on the same transaction.
Offer valid from 23/05/2023
to 30/06/2023 (inclusive)
. Terms & Conditions Apply.
---
Claim Up To €100 off Your Next Lens or Accessory Purchase When You Register Your New Camera On 'My Sony'


Purchase any eligible Sony camera and register it on "My Sony" to receive an email containing THREE voucher codes (per camera body). Each code entitles you to claim up to €100 cashback from Sony when you register the purchase of a qualifying new lens or accessory!
This promotion CAN be combined with other Sony promotions including Welcome to Alpha, seasonal cashback promotions, or any special discounts. Camera to be bought between 1st April 2023 and 30th June 2024. Offer available on selected Sony cameras purchased prior to or together with participating Sony lenses and/or accessories.
This promotion is strictly subject to availability, and cannot be applied to orders or layaways which are not collected during the promotional period.
---
All qualifying Sony items bought directly from Conns Cameras automatically come with a 2 Year Sony Warranty, without the need to register the product or claim an extension. This offer is only available on selected cameras and lenses (below list is subject to frequent updates by Sony Ireland). The extended warranty is not transferrable
---