Nikon Z fc Mirrorless Camera with 16-50mm DX VR SE and 50-250mm DX VR Lenses
Nikon Z fc Mirrorless Camera with 16-50mm DX VR SE and 50-250mm DX VR Lenses
€1,539.00 €1,439.00 €100.00
EAN / UPC : 4960759907912 | Brand : Nikon | SKU : VOA090K003
Promotions & Cashbacks
The Nikon Z fc's compact, lightweight body is highly portable but packs superb operability and rendering capability, making it easy to handle for both existing and first-time mirrorless camera users.

Add-ons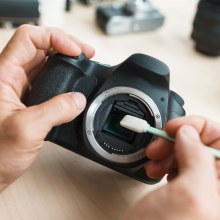 In Stock
Out of Stock
---
Iconic—it's in the family
The black textured body. The subtle grain in the silver metal of the frame. The Z fc mirrorless camera displays just as much character as the Nikon SLR film cameras of yesterday—and its special-edition NIKKOR Z lens looks the part too. It's all about original design details from back then. And real creative power for today.
Special-edition NIKKOR Z 28mm f/2.8 SE
Special-edition Z series prime lens. The design is based on the original AI Nikkor lenses used with the Nikon FM2—even the fonts used for the lens name match the original fonts.
Silver NIKKOR Z DX 16-50mm f/3.5-6.3 VR
Silver edition of the DX-format 16-50mm wide-angle zoom lens. The silver of this ultra-compact lens matches the silver on the Z fc—for a look that can go anywhere.
Handles like a Nikon film camera
Control dials are laid out just as they were on the Nikon FM2 and each dial is machined from solid aluminium. The mechanisms actuate with incredible precision—you'll feel the click. If you've used a Nikon SLR camera before, your muscle memory will kick right back in. If you haven't, you'll love the physicality of the dials.
Physical control dials
Individual dials let you control shutter speed, exposure compensation, and ISO sensitivity without going into the camera menu. You can also set up the camera so that you can use the command dials for shutter speed or exposure compensation.
Top display panel
Are you going for portraits with shallow depth of field, or wide street scenes that are sharp from front to back? The small display panel lets you confirm aperture at a glance by showing you the f/stop number you're shooting at.
Round electronic viewfinder
The high-resolution viewfinder on the Z fc is electronic, but the design is circular—just like the optical viewfinder was on the Nikon FM2. You'll see everything clearly and it activates when you bring the camera up to your eye.
Built for today
The Z fc might look like it just stepped out of the '80s, but the robust magnesium-alloy chassis ensures this mirrorless camera is ready for today. Sturdy in every way, the body is also lightweight and easy to carry around. Hang it from your shoulder and prepare for admiring glances from passers-by.
You can feel the quality
The skeleton of the Z fc is forged from magnesium alloy, the same material used in Nikon's professional cameras. Striking an optimal balance of durability and lightness, this is a camera designed to go wherever inspiration takes you.
Love the performance
Designed around the revolutionary Nikon Z mount, the Z fc mirrorless camera can capture your iconic moments in stunning quality. Thanks to the Z mount, the large 20.9 MP DX-format sensor captures more light. And more light means more of everything good—sharpness, contrast, focusing speed, and low-light performance.
Iconic moments in real detail
The Z fc doesn't just look iconic. Thanks to its high-resolution sensor and wide automatic light-sensitivity range of 100–51200 ISO, this camera gives you superb sharpness, detail, and clarity—day or night. The smooth, fast autofocus system lets you shoot at up to 11 frames per second. You'll get the shot, no matter how fleeting the action might be.
Right in any light
Iconic moments don't wait for perfect lighting, and nor does the Z fc. With its wide ISO range and low-light AF, you can keep on shooting when the sun goes down.
Filters and effects
There are 20 in-camera Creative Picture Controls for photos and videos, all visible in real time while you shoot. Simply adjust the intensity to match your vision.
Friends and family
Shooting portraits? Eye-Detection AF quickly finds your subjects' eyes—humans, cats and dogs alike—and keeps them in sharp focus, even if they move.
Masterful movies
You can record 4K/UHD video at 30p, or turn ordinary moments into epic moments by shooting slow-motion footage in Full HD. You can also capture still frames while filming and create dramatic 4K time-lapse sequences in-camera.
Intriguing angles
The high-resolution vari-angle touchscreen monitor makes it easy to shoot at the angle you want. Turn the monitor to the front and the camera automatically enters self-portrait mode. Perfect whether you're filming or taking selfies.
Vibrant vlogs
Great content deserves to look great, too. With the Z fc, you'll get incredible sharpness and flattering depth of field. Use it for interviews—or turn the vari-angle monitor on yourself for perfectly framed straight-to-camera segments.
| | |
| --- | --- |
| Type | Mirrorless |
| Lens mount | Nikon Z mount |
| Image sensor | DX, CMOS, 23.5 mm x 15.7 mm |
| Total pixels | 21.51 million |
| Dust-reduction system | Image Dust Off reference data (NX Studio software required) |
| Effective pixels | 20.9 million |
| Image size (pixels) | [DX (24x16)] selected for image area: (L)5568 x 3712 (20.7 million), (M)4176 x 2784 (11.6 million), (S)2784 x 1856 (5.2 million), [1:1 (16x16)] selected for image area: (L)3712 x 3712 (13.8 million), (M)2784 x 2784 (7.8 million), (S)1856 x 1856 (3.4 million), [16:9 (24x14)] selected for image area: (L)5568 x 3128 (17.4 million), (M)4176 x 2344 (9.8 million), (S)2784 x 1560 (4.3 million), Photographs taken while recording videos at a frame size of 3840 x 2160: 3840 x 2160, Photographs taken while recording videos at other frame sizes: 1920 x 1080 |
| Storage file formats | NEF (RAW): 12 or 14 bit, JPEG: JPEG-Baseline compliant with fine (approx. 1:4), normal (approx. 1:8), or basic (approx. 1:16) compression, NEF (RAW)+JPEG: Single photograph recorded in both NEF (RAW) and JPEG formats |
| Picture Control System | Auto, Standard, Neutral, Vivid, Monochrome, Portrait, Landscape, Flat, Creative Picture Controls (Dream, Morning, Pop, Sunday, Somber, Dramatic, Silence, Bleached, Melancholic, Pure, Denim, Toy, Sepia, Blue, Red, Pink, Charcoal, Graphite, Binary, Carbon); selected Picture Control can be modified; storage for custom Picture Controls |
| Storage media | SD, SDHC (UHS-I compliant), SDXC (UHS-I compliant) |
| Card slot | 1 Secure Digital (SD) card |
| File system | DCF 2.0, Exif 2.31 |
| Viewfinder | 1.0-cm/0.39-in. approx. 2360k-dot (XGA) OLED electronic viewfinder with color balance and auto and 7-level manual brightness controls |
| Frame coverage | Approx. 100 horizontal and 100 vertical |
| Magnification | Approx. 1.02x (50 mm lens at infinity, -1.0 m-) |
| Eyepoint | 19.5 mm (-1.0 m-; from back end of viewfinder eyepiece lens) |
| Diopter adjustment | -3 - +3 m- |
| Eye sensor | Automatically switches between monitor and viewfinder displays |
| Compatible lenses | Z mount NIKKOR lenses F mount NIKKOR lenses (mount adapter required; restrictions may apply) |
| Shutter type | Electronically-controlled vertical-travel focal-plane mechanical shutter; electronic front-curtain shutter; electronic shutter |
| Shutter speed | Using the shutter-speed dial: 1/4000 to 4 s (1 step), Bulb, Time x (Flash sync) Using the main command dial: 1/4000 to 30 s (1/3 step, can be extended up to 900 s in mode M), Bulb, Time x (Flash sync) |
| Flash sync speed | X 1/200 s; synchronizes with shutter at 1/200 s or slower; auto FP high-speed sync supported |
| Release mode | S (single frame), CL (continuous low speed), CH (continuous high speed), Continuous H (extended), Self-timer |
| Frame advance rate | Up to 11 fps, Continuous L: Approx. 1 to 4 fps, Continuous H: Approx. 5 fps, Continuous H (extended): Approx. 11 fps |
| Self-timer | 2 s, 5 s, 10 s, 20 s; 1 to 9 exposures at intervals of 0.5, 1, 2, or 3 s |
| Exposure metering | TTL metering using camera image sensor |
| Metering method | Matrix metering, Center-weighted metering: Weight of 75 given to 8 mm circle in center of frame; weighting can instead be based on average of entire frame, Spot metering: Meters 3.5 mm circle (about 2.5 of frame) centered on selected focus point, Highlight-weighted metering |
| Metering range | 4 to +17 EV |
| Mode | Auto, P: programmed auto with flexible program, S: shutter-priority auto, A: aperture-priority auto, M: manual |
| Exposure compensation | Range: 3 to +3 EV (5 to +5 EV when the exposure compensation dial is set to [c]), Increment: 1/3 step |
| Exposure lock | Luminosity locked at detected value |
| ISO sensitivity | ISO 100 to 51200, in steps of 1/3 EV, can also be set to approx. 1 EV above ISO 51200 (ISO 102400 equivalent) or to approx. 2 EV above ISO 51200 (ISO 204800 equivalent); auto ISO sensitivity control available (Recommended Exposure Index) |
| Active D-Lighting | Auto, Extra high, High, Normal, Low, and Off |
| Multiple exposure | Add, average, lighten, darken |
| Other options | HDR (high dynamic range), photo mode flicker reduction |
| Autofocus | Hybrid phase-detection/contrast AF with AF assist |
| Detection range | -4.5 to +19 EV |
| 3 | , Without low-light AF: -3 to +19 EV |
| Lens servo | Single-servo AF (AF-S), Continuous-servo AF (AF-C), AF mode auto-switch (AF-A; available only in photo mode), full-time AF (AF-F; available only in video mode), predictive focus tracking, Manual focus (M): Electronic rangefinder can be used |
| Focus points | 209 |
| AF-area mode | Pinpoint AF (photo mode only), single-point AF, dynamic-area AF (photo mode only), wide-area AF (S), wide-area AF (L), wide-area AF (L-people), wide-area AF (L-animals), auto-area AF, auto-area AF (people), auto-area AF (animals) |
| Focus lock | Press the AE-L/AF-L button or press shutter-release button halfway (single-servo AF/AF-S) |
| Flash control | TTL: i-TTL flash control; i-TTL balanced fill-flash is used with matrix, center-weighted, and highlight-weighted metering, standard i-TTL fill-flash with spot metering |
| Flash modes | Front-curtain sync, slow sync, rear-curtain sync, red-eye reduction, red-eye reduction with slow sync, off |
| Flash compensation | -3 to +1 EV in steps of 1/3 EV, available in modes P, S, A, and M |
| Flash-ready indicator | Lights when optional flash unit is fully charged; flashes as underexposure warning after flash is fired at full output |
| Accessory shoe | ISO 518 hot-shoe with sync and data contacts and safety lock |
| Nikon Creative Lighting System | i-TTL flash control, optical Advanced Wireless Lighting, FV lock, Color Information Communication, auto FP high-speed sync |
| White balance | Auto (3 types), natural light auto, direct sunlight, cloudy, shade, incandescent, fluorescent (3 types), flash, choose color temperature (2500 K to 10,000 K), preset manual (up to 6 values can be stored), all with fine-tuning except choose color temperature |
| Bracketing types | Exposure and/or flash, white balance, ADL |
| Movie - metering | TTL exposure metering using main image sensor, TTL metering using camera image sensor |
| Movie - metering method | Matrix, center-weighted, or highlight-weighted |
| Movie - frame size (pixels) and frame rate | 3840 x 2160 (4K UHD): 30p (progressive)/25p/24p, 1920 x 1080: 120p/100p/60p/50p/30p/25p/24p, 1920 x 1080 slow-motion: 30p (x4)/25p (x4)/24p (x5) |
| Movie - file format | MOV, MP4 |
| Movie - video compression | H.264/MPEG-4 Advanced Video Coding |
| Movie - audio recording format | Linear PCM (for videos recorded in MOV format), AAC (for videos recorded in MP4 format) |
| Movie - audio recording device | Built-in stereo or external microphone with attenuator option; sensitivity adjustable |
| Movie - ISO sensitivity | M: Manual selection (ISO 10025600; step size of 1/3 EV); auto ISO sensitivity control (ISO 100 to 25600) available with selectable upper limit P, S, A: Auto ISO sensitivity control (ISO 100 to 25600) with selectable upper limit AUTO: Auto ISO sensitivity control (ISO 100 to 25600) (Recommended Exposure Index) |
| Movie - Active D-Lighting | Same as photo settings, Extra high, High, Normal, Low, and Off |
| Movie - Other options | Time-lapse video recording, electronic vibration reduction, time codes |
| Monitor | 7.5-cm (3.0in.) diagonal, Vari-angle TFT touch-sensitive LCD with 170 viewing angle, approximately 100 frame coverage, and color balance and 11-level manual brightness controls, Approx. 1040k-dot |
| Playback | Full-frame and thumbnail (4, 9, or 72 images or calendar) playback with playback zoom, playback zoom cropping, video playback, photo and/or video slide shows, histogram display, highlights, photo information, location data display, auto image rotation, and picture rating |
| USB | Type C USB connector (SuperSpeed USB); connection to built-in USB port is recommended |
| HDMI output | Type D HDMI connector |
| Audio input | Stereo mini-pin jack (3.5 mm diameter; plug-in power supported) |
| Wi-Fi (Wireless LAN) standards | IEEE 802.11b/g/n |
| Wi-Fi (Wireless LAN) operating frequency | 2412 to 2462 MHz (channel 11) |
| Wi-Fi (Wireless LAN) maximum output power | 2.4 GHz band: 8.1 dBm |
| Wi-Fi (Wireless LAN) security | Open system, WPA2-PSK |
| Bluetooth standards | Bluetooth Specification Version 4.2, Bluetooth: 2402 to 2480 MHz, Bluetooth Low Energy: 2402 to 2480 MHz, Bluetooth: 2.6 dBm, Bluetooth Low Energy: 1.1 dBm |
| Battery | One EN-EL25 rechargeable Li-ion battery |
| AC adapter | EH-7P charging AC adapter (available separately) |
| Tripod socket | 0.635 cm (1/4 in., ISO 1222) |
| Dimensions (W x H x D) | Approx. 134.5 x 93.5 x 43.5 mm (5.3 x 3.7 x 1.8 in.) |
| Operating environment - temperature | 0 C to 40 C (+32 F to 104 F) |
| Operating environment - humidity | 85 or less (no condensation) |
| Supplied accessories | BF-N1 body cap, DK-32 viewfinder eyepiece (comes attached to camera), EN-EL25 rechargeable Li-ion battery, MH-32 battery charger (plug adapter supplied in countries or regions where required; shape depends on country of sale), AN-DC23 strap |