Sony FR7 Cinema Line Full-Frame PTZ ILME Interchangeable-lens Camera
Sony FR7 Cinema Line Full-Frame PTZ ILME Interchangeable-lens Camera
€11,269.00
EAN / UPC : 4548736141872 | Brand : Sony | SKU : ILME-FR7
Introducing the latest addition to its Cinema Line, the ILME-FR7, an E-mount interchangeable lens camera with a full-frame image sensor and built-in pan/tilt/zoom (PTZ) functionality. Its versatile remote control and cinematic features open creative possibilities in studio, live production and movie-making settings.
A high-performance full-frame image sensor and the expressive scope of Sony's extensive E-mount lens lineup work with remote pan/tilt/zoom contro l, high flexibility in zoom capability and wide angle shooting to break through location and space limitations. It also offers the cinematic look and operability that have made Sony digital cinema cameras leaders in the movie industry, plus versatile connectivity and efficient multi camera workflow support. Shooting in up to 4K 120p*5 slow-motion is possible, creating that emotional possibility offered by a cinematic look.
*5 S-Log3 recording. Sony measurement. In Custom mode.
Creative camera placement
With its integrated, remotely controllable pan and tilt mechanism, the FR7 can be mounted on the ceiling or in other out-of-the-way locations. Follow your subjects or instantly recall pre-composed shot framings, for unprecedented creative potential.
Innovative remote control
With a newly developed Web App that enables easy access via QR code or URL input, you can set up the FR7 from a tablet or a PC through a web browser. You can also use the optional RM-IP500 for precise joystick-controlled pan, tilt and zoom operation.
Advanced technology for cinematic expression
Bearing the Cinema Line name, the FR7 incorporates key features that support cinematic expression. The FR7 features a back-illuminated 35mm full-frame CMOS image sensor for the first time in a pan, tilt and zoom (PTZ) camera. Also the BIONZ XR contributes to superb image quality with high sensitivity, smooth gradations, and true-to-life colour.
Limitless creativity with E-mount lenses
The FR7 features Sony's E-mount and can be used with all E-mount lenses. These include the superlative G Master series, known for its stunning resolution and beautiful bokeh. A choice of focal lengths ranging from 12mm to 1200mm gives you comprehensive creative control.
Cinema Line Image Quality
The FR7's "Cinema Line" name identifies it as part of a renowned line-up of creative tools designed to unleash the true power of visual storytelling. It provides Custom and Cine EI modes that adjust camera operation to your workflow while maintaining consistency with other Cinema Line cameras.
Staggering latitude for powerful expression
The FR7 offers wide 15+ stop latitude to prevent blown highlights and crushed shadows. In Cine EI mode, base sensitivity can be set to either ISO 800 or 12800 for a consistent look regardless of lighting conditions.
Astounding image quality in low light
The FR7 offers cleaner images in low light by taking full advantage of the sensor's size and high sensitivity. ISO can be expanded as far as ISO 409600 when shooting in extremely low light conditions such as live concerts.
Slow motion for extensive creative possibilities
Smooth 5x slow motion provides extensive creative possibilities, making every moment clearer and more dramatic. The FR7 allows internal slow-motion capture at up to 120 fps in 4K resolution, and up to 240 fps in full HD.
4K 60p 4:2:2 10-bit output
The FR7 supports clean, high-quality output via its HDMI and SDI OUT connectors. This makes it possible to record Apple ProRes 422 or Avid DNxHR in 4K 60p 4:2:2 10-bit format with compatible external recorders via an HDMI or SDI cable.
Support for S-Log3/S-Gamut3
The optional S-Log3 gamma curve and S-Gamut3.Cine let you capture the full colour gamut and dynamic range available to the sensor. They enable the retention of information in both highlights and shadows for flexibility in post-production.
All-Intra recording for precise motion capture
The FR7 is capable of 4K internal recording with 10-bit depth and 4:2:2 colour sampling with All-Intra and Long-GOP compression. This makes it possible to push your colour grades further while still retaining natural gradation, for true editing freedom.
An instant cinematic look with S-Cinetone
S-Cinetone produces the natural mid-tones essential to healthy-looking skin, plus soft colours and gorgeous highlights. Beautiful cinematic images can be created in-camera, without extra colour grading.
Smooth Pan, Tilt and Zoom (PTZ) Operation
Capture the scene from any angle - the FR7 incorporates smooth pan, tilt and zoom3 functionality that can be remotely controlled, or recalled to preset positions. The pan angle range is from -170° to +170°, and the tilt angle range is from -30° to +195° when used in normal upright orientation.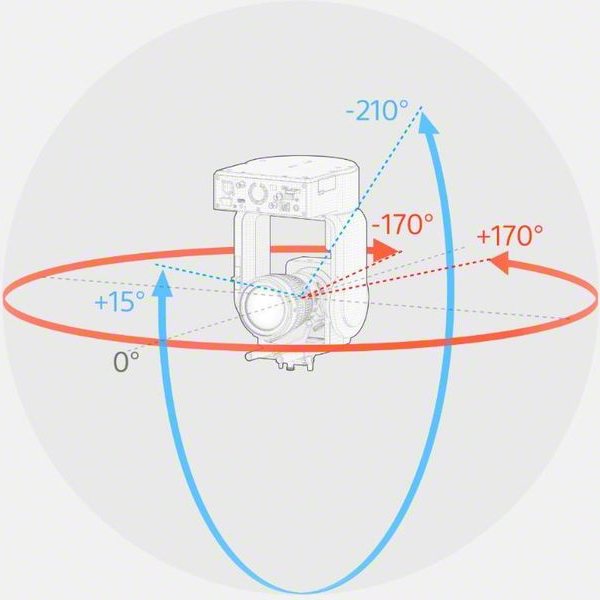 Multi-camera Shooting
Expand your creative options
The FR7 supports multi-camera production with just a small staff. It can be mounted on a tripod, on the ceiling, or in limited-access locations so that subjects can be unobtrusively followed and recorded from a range of viewpoints. A single RM-IP500 remote control unit can be used for a setup of up to 100 FR7 cameras (10 groups of 10 cameras).
Fine-tuned control over camera movement
Pan and tilt speed can be continuously varied from 0.02 degrees per second to 60 degrees per second, for flexible subject tracking and production scenarios.
Up to 100 preset camera positions
The supplied remote controller1, dedicated FR7 Web App and RM-IP500 can remember up to 100 camera presets (camera direction, zoom and focus). Presets can be recalled at the touch of a button.
Clear Image Zoom to refine your angle of view
The FR7 includes Sony's Clear Image Zoom function, giving you the option to zoom into your subject with minimal image degradation even when using a non-powered zoom lens or prime lens.
Reliable autofocus for remote shooting
For remote setting, the FR7 locks onto fast-moving subjects quickly and tracks them tenaciously even in low light, using 627 selectable phase-detection AF points and the powerful BIONZ XR processor.
Real-time Tracking for remote shooting
Concentrate on composition and leave focusing up to the camera. In the FR7's Web App, Touch Tracking starts autofocus for your chosen subject, complete with Real-time Tracking for professional and efficient production.
Real-time Eye AF for remote shooting
Underpinned by the BIONZ XR processor, the FR7 offers reliable AF performance, indispensable for remote shooting. Pinpoint eye focus tracks an eye even when subjects are looking up or down at a steep angle.
Electronic Variable ND Filter for smooth remote operation
Sony's built-in electronic variable ND (neutral density) filter allows exposure control at a distance, for smooth operation in a remote setup. It allows seamless ND adjustment from 1/4 to 1/128 to control exposure remotely, and depth of field can be conveniently controlled while maintaining a consistent exposure.
Breathing compensation
The FR7 includes a Breathing Compensation function that minimises unwanted changes in angle of view, for better looking focus transitions. With compatible lenses, the angle of view is automatically kept consistent even when focusing, making it possible to achieve smooth and dramatic focusing effects.
Accessories
Tally lights to facilitate multi-camera production
The FR7's red and green tally lights make it easy to identify which camera is currently active (on-air) in a multi-camera setup. A red tally light can identify the on-air camera while a green tally light indicates the preview camera.
Supplied infrared remote controller
The infrared remote controller included with the FR7 controls pan, tilt, zoom and focus (with presets available) as well as recording and playback.
Dedicated ceiling mount bracket CIB-PCM1
The FR7 is compatible with the CIB-PCM1 ceiling mount bracket for easy overhead setup. The "Ceiling" option in the Web App flips the control directions, for natural operation even with the camera mounted upside down.
Outstanding Connectivity
Interfaces and IP transmission methods for a wide range of use cases
The FR7 provides excellent connectivity for video output, IP streaming, and synchronisation with other devices. HDMI video output can be used for real-time monitoring, while SDI video output delivers a RAW signal to an external recording device. Camera control, video and audio transfer, and power supply can be carried out via a single LAN cable.
Connecting to external devices
Easily connect to external devices to provide timecode synchronisation, control tally light signals, and coordinate synchronisation signals in multi-camera setups.
TC IN connector - Receives timecode from an external device to be used for synchronisation.
Option connector - Connects tally light signals to an external device.
GENLOCK connector - Receives synchronisation signals from an external device for use in multi-camera setups.
Power Supply
LAN and PoE++ connector
The FR7 can be powered with an external PoE++ (Power over Ethernet Plus Plus) device via a standard network cable (CAT5e or higher), eliminating the need for separate power supply cabling.
DC IN connector
If not using PoE++, the supplied AC adaptor connects to the FR7's "DC IN" connector to power the unit. The cord clamp on the rear panel of the FR7 can be used to prevent the power cable from being accidentally unplugged.
IP Streaming Made Easy
Support for multiple protocols to meet your streaming needs
RTSP streaming allows video output from one camera to be simultaneously distributed to up to five viewers. SRT enables high-quality, low-latency video transfer even in unstable network conditions. And NDI|HX connects to NDI compatible devices such as switchers and media servers, supporting efficient live video production using Internet protocols.
General
LENS MOUNT
E-mount
Size & Weight
WEIGHT (MAIN UNIT ONLY) (approx.)
Approx. 4.6 kg (10 lb 2.3 oz.) (body only)
DIMENSIONS (W X H X D) (BODY WITHOUT PROTRUSIONS) (approx.)
Approx. 227 x 289 x 233 mm (9 x 11 1/2 x 9 1/4 inch) (body without protrusions)
Power
POWER REQUIREMENTS
DC 19.5 V, PoE++ (IEEE802.3bt Type 4 Class 8 comliant) 41.1 V
57.0 V
POWER CONSUMPTION
80 W (DC 19.5 V) / 71.3 W (PoE++)
Operation
OPERATING TEMPERATURE
0 C to 40 C (32 F to 104 F)
STORAGE TEMPERATURE
-20 C to +60 C (-4 F to +140 F)
CEILING MOUNT
Yes (with Ceiling Bracket option)
TALLY LAMP
Left (x1)/Right (x1), Red/Green
Recording Format(Video)
XAVC INTRA
XAVC-I DCI4K 59.94p mode: VBR, MAX bit rate 600 Mbps, MPEG-4 AVC/H.264, XAVC-I DCI4K 50p mode:VBR, MAX bit rate 500 Mbps, MPEG-4 AVC/H.264, XAVC-I DCI4K 29.97p mode:VBR, MAX bit rate 300 Mbps, MPEG-4 AVC/H.264, XAVC-I DCI4K 25p mode:VBR, MAX bit rate 250 Mbps, MPEG-4 AVC/H.264, XAVC-I DCI4K 24p mode:VBR, MAX bit rate 240 Mbps, MPEG-4 AVC/H.264, XAVC-I DCI4K 23.98p mode:VBR, MAX bit rate 240 Mbps, MPEG-4 AVC/H.264, XAVC-I QFHD 59.94p mode:VBR, MAX bit rate 600 Mbps, MPEG-4 AVC/H.264, XAVC-I QFHD 50p mode:VBR, MAX bit rate 500 Mbps, MPEG-4 AVC/H.264, XAVC-I QFHD 29.97p mode:VBR, MAX bit rate 300 Mbps, MPEG-4 AVC/H.264, XAVC-I QFHD 25p mode:VBR, MAX bit rate 250 Mbps, MPEG-4 AVC/H.264, XAVC-I QFHD 23.98p mode:VBR, MAX bit rate 240 Mbps, MPEG-4 AVC/H.264, XAVC-I HD 59.94p mode:CBG, MAX bit rate 222 Mbps, MPEG-4 AVC/H.264, XAVC-I HD 50p mode:CBG, MAX bit rate 223 Mbps, MPEG-4 AVC/H.264, XAVC-I HD 29.97p mode:CBG, MAX bit rate 111 Mbps, MPEG-4 AVC/H.264, XAVC-I HD 25p mode:CBG, MAX bit rate 112 Mbps, MPEG-4 AVC/H.264, XAVC-I HD 23.98p mode:CBG, MAX bit rate 89 Mbps, MPEG-4 AVC/H.264
XAVC LONG
XAVC-L QFHD 29.97p/25p/23.98p mode:VBR, MAX bit rate 100 Mbps, MPEG-4 H.264/AVC, XAVC-L QFHD 59.94p/50p mode:VBR, MAX bit rate 150 Mbps, MPEG-4 H.264/AVC, XAVC-L HD 29.97p/25p/23.98p/59.94p/50p mode:VBR, MAX bit rate 50 Mbps, MPEG-4 H.264/AVC, XAVC-L HD 29.97p/25p/23.98p/59.94p/50p mode:VBR, MAX bit rate 35 Mbps, MPEG-4 H.264/AVC
Recording Format (Audio)
RECORDING FORMAT (AUDIO)
LPCM 24 bits, 48 kHz, 4 channels
Recording Frame Rate
XAVC INTRA
XAVC-I DCI4K mode:4096 x 2160/59.94p, 50p, 29.97p, 23.98p, 25p, 24p, XAVC-I QFHD mode:3840 x 2160/59.94p, 50P, 29.97p, 23.98p, 25p, XAVC-I HD mode:1920 x 1080/59.94p, 50p, 29.97p, 23.98p, 25p
XAVC LONG
XAVC-L QFHD mode:3840 x 2160/59.94p, 50p, 29.97p, 23.98p, 25p, XAVC-L HD 50 mode:1920 x 1080/59.94p, 50p, 29.97p, 23.98p, 25p, XAVC-L HD 35 mode:1920 x 1080/59.94p, 50p, 29.97p, 23.98p, 25p
Recording/Playback Time
XAVC INTRA
XAVC-I DCI4K/QFHD 59.94p When using CEA-G160T (160 GB) Approx. 30 minutes When using CEA-G80T (80 GB) Approx. 15 minutes, XAVC-I DCI4K/QFHD 50p When using CEA-G160T (160 GB) Approx. 36 minutes When using CEA-G80T (80 GB) Approx. 17 minutes, XAVC-I DCI4K/QFHD 29.97p When using CEA-G160T (160 GB): Approx. 60 minutes When using CEA-G80T (80 GB) Approx. 29 minutes, XAVC-I DCI4K/QFHD 25p When using CEA-G160T (160 GB): Approx. 71 minutes When using CEA-G80T (80 GB) Approx. 35 minutes, XAVC-I DCI4K 24p When using CEA-G160T (160 GB): Approx. 74 minutes When using CEA-G80T (80 GB) Approx. 36 minutes, XAVC-I DCI4K/QFHD 23.98p When using CEA-G160T (160 GB): Approx. 74 minutes When using CEA-G80T (80 GB) Approx. 36 minutes, XAVC-I HD 59.94p When using CEA-G160T (160 GB): Approx. 78 minutes When using CEA-G80T (80 GB) Approx. 38 minutes, XAVC-I HD 50p When using CEA-G160T (160 GB): Approx. 78 minutes When using CEA-G80T (80 GB) Approx. 38 minutes, XAVC-I HD 29.97p When using CEA-G160T (160 GB): Approx. 150 minutes When using CEA-G80T (80 GB) Approx. 74 minutes, XAVC-I HD 25p When using CEA-G160T (160 GB): Approx. 150 minutes When using CEA-G80T (80 GB) Approx. 74 minutes, XAVC-I HD 23.98p When using CEA-G160T (160 GB): Approx. 185 minutes When using CEA-G80T (80 GB) Approx. 91 minutes,
XAVC LONG
XAVC-L QFHD 29.97p/25p/23.98p When using CEA-G160T (160 GB): Approx. 170 minutes When using CEA-G80T (80 GB) Approx. 86 minutes, XAVC-L QFHD 59.94p/50p When using CEA-G160T (160 GB): Approx. 115 minutes When using CEA-G80T (80 GB) Approx. 57 minutes, XAVC-L HD 50 /29.97p/25p/23.98p/59.94p/50p When using CEA-G160T (160 GB): Approx. 320 minutes When using CEA-G80T (80 GB) Approx. 155 minutes, XAVC-L HD 35 29.97p/25p/23.98p/59.94p/50p When using CEA-G160T (160 GB): Approx. 430 minutes When using CEA-G80T (80 GB) Approx. 210 minutes
PROXY AUDIO
XAVC Proxy: AAC-LC, 128 kbps, 2 channels
PROXY VIDEO
XAVC Proxy: AVC/H.264 High Profile 4:2:0 Long GOP, VBR 1920 x 1080, 9 Mbps
Camera Section
SENSOR TYPE
35mm full frame (35.6 x 23.8 mm), Exmor R CMOS sensor
Pixels
Approx. 12.9 megapixels (total), Approx. 10.3 megapixels (effective)
BUILT-IN OPTICAL FILTERS
Clear, linear variable ND (1/4ND to 1/128ND)
SENSITIVITY
ISO 800/12800 (Cine EI mode, D55 Light source)
SHUTTER SPEED
64 frame to 1/8000 sec.
Slow & Quick Motion
XAVC-I
4096 x 2160: 1 to 60 frames (59.94/50/29.97/25/24/23.98)
XAVC-I/L
3840 x 2160: 1 to 60, 100, 120 frames (59.94/50/29.97/25/23.98), 1920 x 1080: 1 to 60, 100, 120, 150, 180, 200, 240 frames (59.94/50/29.97/25/23.98)
White Balance
WHITE BALANCE MODES
Preset, Memory A (2000K-15000K)/ATW
Exposure
GAIN CONTROL
-3 to 30 dB (every 1dB), AGC
Gamma
GAMMA CURVE
SDR Mode: S-Cinetone, Standard, Still, ITU709 / HDR mode : HLG_Live, HLG_Natural
Latitude
LATITUDE
15+ stop
Focus System
Type
Fast Hybrid AF (phase-detection AF / contrast-detection AF)
FOCUS POINT
627 points
FOCUS AREA
Wide / Zone / Flexible Spot
OTHER FOCUS FEATURES
Eye AF (Human), Real-time Tracking AF, AF Subj. Shift Sensitivity, AF Transition Speed, Face detection (Face/Eye Priority, Face/Eye Only AF )
Pan/Tilt
PAN/TILT ANGLE
Pan: -170 deg.
170 deg., Tilt: -30 deg.
195 deg.,
PAN/TILT SPEED
Pan: 0.02 deg.
60 deg./s, Tilt: 0.02deg.
60 deg./s
PAN/TILT OPERATION NOISE
NC35 or less
Other Features
PRESET POSITION
100
CLEAR IMAGE ZOOM
QFHD/4K: 1.5x, HD: 2x
WebAPP
SUPPORTED OPERATION SYSTEMS
Windows 10 or later, macOS 10.15 or later, iPadOS 15 or later, Android 12 or later
SUPPORTED WEB BROWSERS
Windows: Google Chrome, Mac: Google Chrome/Safari, iPad: Google Chrome/Safari, Android: Google Chrome
Interface
TC INPUT/TC OUTPUT
BNC (x1), TC IN only
AUDIO INPUT
XLR-type 5-pin (female) (x1) line/mic/mic +48 V selectable, Mic Reference: -30 to -80 dBu
SDI OUTPUT
BNC (x1), 12G-SDI, 6G-SDI, 3G-SDI(Level A/B), HD-SDI
DC INPUT
DC jack (x1)
HDMI OUTPUT
Type-A connector (x1)
REMOTE
RJ-45(OPTION) (x1), Red Tally IO/Green Tally IO
GENLOCK INPUT
BNC (x1), 1.0 Vp-p, 75 O
OPTICAL OUTPUT
SFP+ comliant
NETWORK
RJ-45(LAN) (x1), 1000BASE-T
IR REMOTE CONTROL
Yes
Output Format
SDI
4096 x 2160: 59.94p, 50p, 29.97p, 25p, 24p, 23.98p / 3840 x 2160: 59.94p, 50p, 29.97p, 25p, 23.98p / 1920 x 1080 : 59.94p, 50p, 59.94i, 50i, 29.97p, 25p, 24p, 23.98p, 29.97PsF, 25PsF
HDMI
4096 x 2160: 59.94p, 50p, 29.97p, 25p, 24p, 23.98p / 3840 x 2160: 59.94p, 50p, 29.97p, 25p, 23.98p / 1920 x 1080: 59.94p, 50p, 59.94i, 50i, 29.97p, 25p, 24p, 23.98p / 720 x 480: 59.94p / 720 x 576: 50p
Media
MEDIA TYPE
CFexpress Type A / SD card (x2)
Network/IP Streaming
PROTOCOLS (IPv6)
TCP, UDP, ICMPv6, HTTP, HTTPS, DHCPv6, DNS, mDNS, RTP/RTCP, RTSP, SRT, FTP, FTPS
PROTOCOLS (IPv4)
TCP, UDP, ARP, ICMP, HTTP, HTTPS, DHCP, DNS, mDNS, RTP/RTCP, RTSP, VISCA over IP, SRT, NDIHX, FTP, FTPS
VIDEO RESOLUTION
4096 x 2160, 3840 x 2160, 2048 x 1080, 1920 x 1080, 1280 x 720, 640 x 360
COMPRESSION FORMAT
H.264: High/Main/Baseline Profile, H.265: Main/Main10 Profile
MAXIMUM FRAME RATE
H.264/H.265: 59.94fps
BITRATE CONTROL MODE
CBR/VBR
BITRATE SETTING
512 Kbps
80 Mbps
NDIHX CAPABILITY
Yes, optional
Supplied Accessories
SUPPLIED ACCESSORIES
Body cap, HDMI cable fixing plate, REMOTE COMMANDER (RMT-RC1), AC Adaptor, Power cord, Before Using This Unit, Warranty booklet